May 13, 2021
Portworx Enterprise 2.8: deeper Pure integration, Tanzu support, and much more
Portworx® has led the market creating the most comprehensive storage and data management platform for modern applications running on Kubernetes, being recognized as leader in both the GigaOm Radar for Kubernetes Storage and Kubernetes Data Protection. Our customers love us for bringing the agility, scalability and automation benefits of Kubernetes to any application or data service on any infrastructure on-premise or in the cloud irrespective of the stage of Kubernetes journey they are in. The world's most sophisticated users of Kubernetes including T-Mobile, Kroger, KPN run Portworx with their choice of Kubernetes distribution and their choice of storage infrastructure in order to build a cloud services platform for their end users at a rapidly increasing scale. With Portworx Enterprise 2.8, our customers will be able to accelerate their Kubernetes journey with more automation, more scale and more deployment options. Let's look at what's new in this latest release.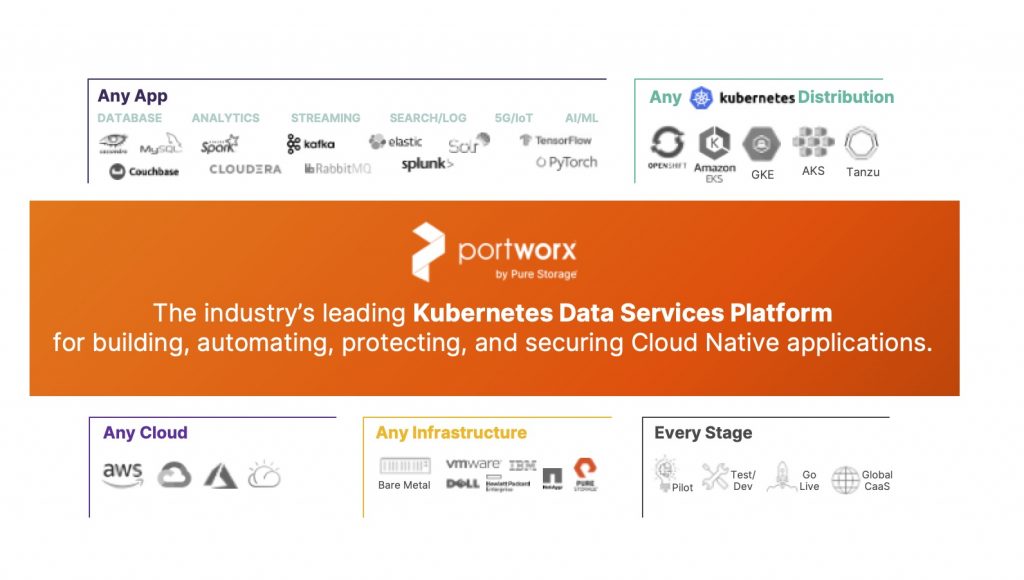 New integrations with Pure Storage provide the simplest way to run Kubernetes applications at enterprise levels of scale and resiliency
Portworx supports any infrastructure and even before we joined Pure, customers like T-Mobile have been using Portworx as the container-native storage platform on top of Pure's FlashArray™. With our latest release, Portworx Enterprise 2.8 makes it even easier to take advantage of the enterprise capabilities of Pure like all-flash performance, non-disruptive upgrades, and data reduction alongside the container-granular capabilities of Portworx.  New with 2.8, Portworx can dynamically provision volumes on Pure FlashArray and FlashBlade® when you deploy your Kubernetes applications using the Portworx CSI driver. Portworx will automatically create drives on FlashArray LUNS thereby supporting all cloud-native features like replication, snapshots, migration and security in container granular and application consistent manner. With FlashBlade, Portworx creates a volume for Kubernetes applications directly on the FlashBlade in pass-through mode. What this means is that the Portworx control plane will send the PVC request directly to the Flashblade file system for those applications.  This not only benefits DevOps administrators who are looking for Kubernetes aware data management but also helps Storage administrators, who can continue to leverage storage resiliency, efficiency and ease of use in their storage infrastructure. In order to configure Portworx to use the underlying FlashArray, you just need to provide the FlashArray credentials in the Kubernetes secret. With FlashBlade, you need to define a storage class that points to FlashBlade along with the necessary parameters.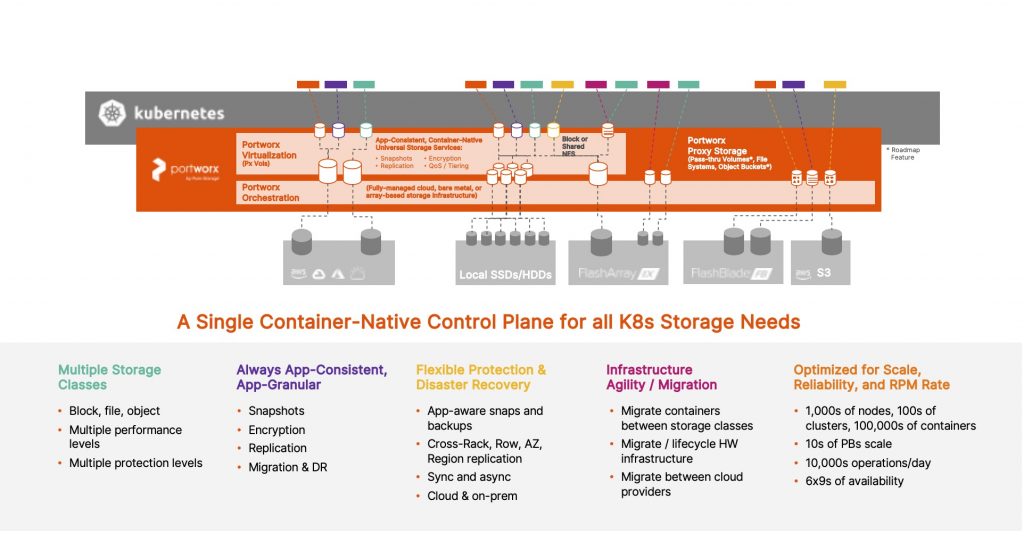 Predictive-capabilities of Pure1, now for Kubernetes apps running on Portworx
Pure has led the industry in cloud-based smart storage management with Pure1®. Pure1 provides a single view of all Pure arrays for monitoring, management and predictive support. With Portworx 2.8, we are providing access to Pure1 for Portworx customers so that they can benefit from a unified view of all Portworx clusters for monitoring cluster health, configuration and managing support cases.  All the Portworx-Pure1 communication happens via a call-home channel secured via HTTPS and two-way authentication. In the upcoming release of Pure1, customers will have a new dedicated role called "PX admin" for managing the Portworx deployments. We are just getting started here and have features like real-time metrics, proactive alerting and subscription management in the second half of FY'21. Even more exciting, as Pure1 collects telemetry data necessary to understand deployment patterns, it enables customers to benefit from the predictive support capabilities of Pure1, powered by the Meta® AI engine, which aims to detect anomalies and suggest resolution advice before issues become outages. With Portwox fully integrated with the global Pure Storage support organization, this end-to-end data gives a highly-trained support team the tools necessary to provide market-leading predictive support to all Portworx customers.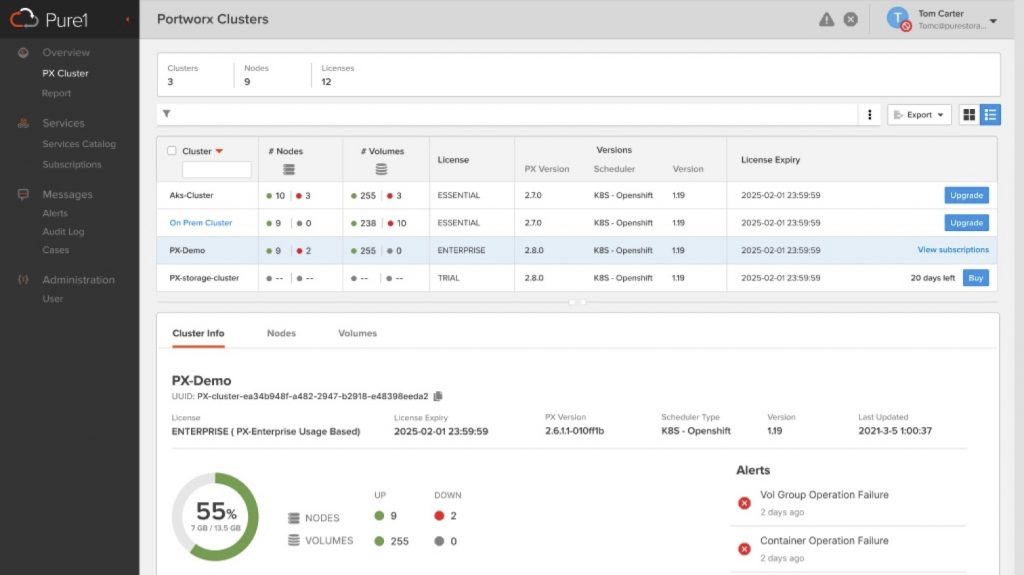 A better container-native storage experience for VMWare Tanzu as well as any Container Storage Interface (CSI)-compatible storage system
Portworx was one of the first vendors to support the Kubernetes Container Storage Interface (CSI) standard back when it was created in 2018. Portworx is also a key contributor to the CSI community. CSI has been gaining traction since its inception and has moved to version 1.4 version as of Kubernetes 1.21. The latest Portworx Enterprise release certifies Portworx CSI with the 1.4 spec and also adds support for CSI Raw Block volumes. Starting 2.8, CSI will be enabled by default on Portworx clusters.
What does this mean to you? Portworx today works with almost every backend storage provider. From 2.8.0, we will be using the storage provider's CSI driver to integrate where possible, still continuing to support advanced features on the Portworx layer. VMware customers can now take advantage of that for running their Kubernetes applications with Tanzu and Portworx. Customers can use not only dynamic provisioning of container granular volumes but also start with application consistent data protection, DR with near zero RPO and automated capacity management on Tanzu today. Portworx already supports hybrid cloud use cases on AWS Outposts, Google Anthos, RedHat OpenShift and IBM Cloud Satellite today.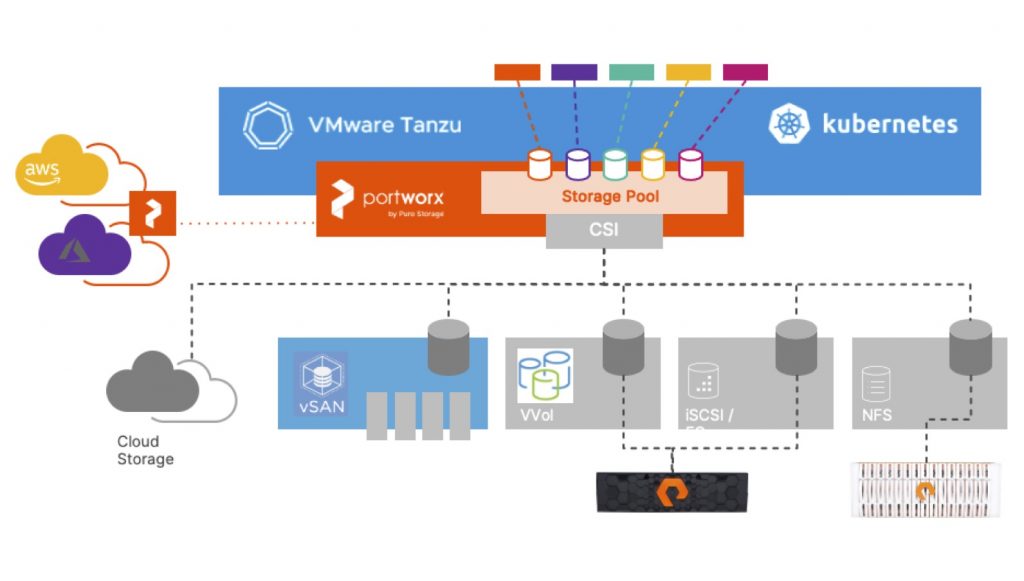 Additionally, we have added more features requested by our customers:
NFS as a Kubernetes Service: 

For apps requiring read-write-many (RWX) volumes, Portworx supports shared volumes which is a virtual NFS volumes for file based workloads  In the 2.8.0, Portworx will configure a Kubernetes Service endpoint for such volumes which simplifies failover and overall management. This allows both applications within the cluster and outside the cluster to access them as a service which could potentially be useful for edge deployments.

Additional space saving for snapshots:

Portworx snapshots are incremental (only changes to data are captured) for quick restores and capacity savings. 2.8 offers a new backup engine that brings additional capacity savings of 10X or more for snapshots by using snapshot extent metadata to calculate snapshot differentials.

Support for AWS gp3 drives

in addition to gp2 and io1 drives already available today. 
Portworx Enterprise 2.8.0 will be available at the end of the month for all customers to take advantage of these unique capabilities. To learn more about Portworx Enterprise features and how you can get started, you can visit https://portworx.com/products/features/