Automate protection of your containerized applications with Kubernetes optimized cloud native disaster recovery.
Recover Entire Apps
PX-DR doesn't just protect data. We also protect your application configuration and Kubernetes objects, so that recovering your applications is as easy as redeploying your pods.
Zero RPO
For data centers in a metro area, a single Portworx cluster can span two distinct Kubernetes clusters, enabling Zero RPO failover for mission-critical apps.
Low RTO
Because PX-DR protects your application configuration and Kubernetes objects in addition to your data, it is easy to ensure low RTO for applications in the face of disaster.
DR Across the WAN
If you don't have two datacenters in a metro area, you can still use PX-DR across the WAN. Portworx will regularly snapshot your data volumes, app configuration, and Kubernetes objects and move them to a second location. While your RPO will be higher, you still get the same low RTO.
All Stateful Apps
You don't have to be an expert in each data service, because our app-specific capabilities automate DR for any data service.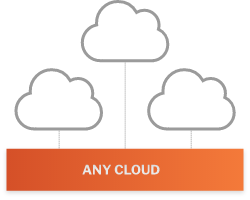 Run On All Infrastructures
Portworx aggregates your underlying storage in the cloud (AWS EBS, Google PD, etc) or on-prem (bare metal, NetApp, EMC, vSAN, etc) and turns it into a container-native storage fabric.