The Single Platform for Any Database
Fully automate day 0 deployment and simplify day 2 operations for data services with Portworx database services, empowering development teams with self-service access to data services and removing the administrative burden that comes with deploying and managing databases.
Quickly deploy customized databases
Centralized management plane across data services
Eliminate vendor lock-in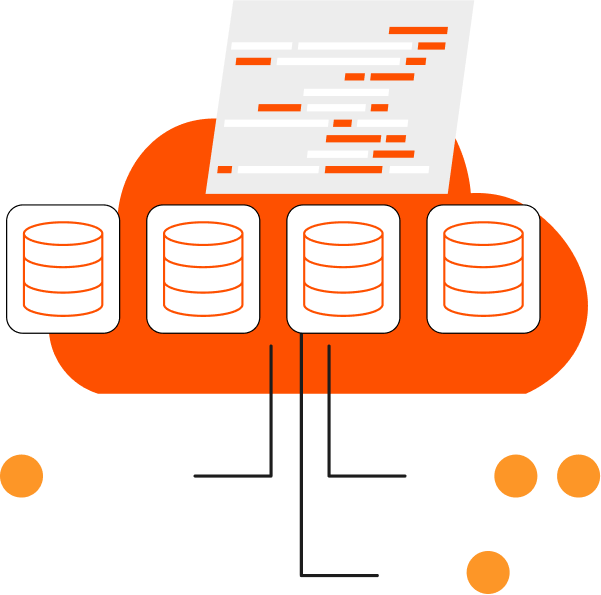 Using Portworx Enterprises Can
Run One Platform
Deploy production grade data services within minutes on any cloud, at a low cost without any lock-in.
Operate One API
Perform day 2 ops within a single pane of glass, without hiring specialists for each data service.
Manage One Solution
Use a centralized, UI-based solution with enterprise-grade support for multiple data services from a single vendor using curated database container images.
The Database-Platform-as-a-Service
Automated Day 0 Deployment
Portworx database services supports a broad catalog of curated data services, including MongoDB, Elasticsearch, Cassandra, Kafka, PostgreSQL, and more. Regardless of the data service, Portworx simplifies the deployment of databases on a centralized platform, automating the unique deployments of each service into just a few clicks and removing the constraints of vendor lock-in.
Simplified Day 2 operations
Data service management doesn't stop at deployment. Portworx also simplifies day 2 operations with:
Dynamic provisioning of persistent volumes
Scheduled or ad-hoc application-level backups
Monitoring data service metrics
Non-disruptive data service upgrade notifications and upgrades in a single click
These all reduce the operational complexity that comes with data service lifecycle management.
Centralized Management Platform
Each data service comes with its own set of unique requirements and design considerations that require different skill sets to manage. Portworx database services provides a consistent experience within a simple UI, removing the need for data service specialists and giving more time for developers to work on delivering applications.
Portworx Platform Services
Top Resources

Solution Brief
Portworx Data Services

Webinar
Give Developers That They Want: Data Services

Video
A Walkthrough of Portworx Data Services
Frequently Asked Questions
What is a database-platform-as-a-service?
A database-platform-as-a-service provides a managed platform for deploying, operating, and managing different databases. These services abstract away the complexities that come with handling underlying infrastructure, giving developers and the business valuable time back to focus on other priorities that would have otherwise been spent on lifecycle management.
Key features that a database-platform-as-a-service should offer are scalability, high availability, security, automated backups, non-disruptive upgrades, and monitoring.
Read more
What data services does Portworx support?
Today, Portworx supports MongoDB, Elasticsearch, Cassandra, Apache Kafka, Microsoft SQL Server, MySQL, PostgreSQL, Redis, Couchbase, Consul, RabbitMQ, and Apache Zookeeper. We are consistently adding support for more data services, so keep checking back to see if we support yours.
How do I deploy my data service of choice on Kubernetes using Portworx?
Portworx database services is simple to deploy on your data service of choice. We have many resources, including the following blogs that may help: