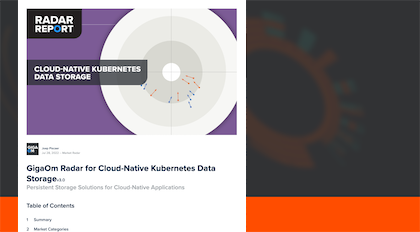 The adoption of cloud native, container-based architectures and application modernization continues to fuel demand for persistent storage on Kubernetes platforms. Organizations understand that the benefits of cloud native workloads in terms of performance, scalability, and portability are key enablers to achieve business goals.
This report focuses on cloud native persistent storage solutions for Kubernetes. These are architectures specifically designed to address the needs of cloud native applications without compromising on performance or scalability. They are usually not engineered to co-exist with other workload types, such as virtualization.
Download this report to learn why:
Portworx is a complete enterprise-grade solution with outstanding data management capabilities, unmatched deployment possibilities, and superior management features. Portworx remains the gold standard in cloud native Kubernetes storage for the enterprise.
Portworx is one of the most advanced solutions for enterprise Kubernetes storage because it enables the deployment of cloud native storage for apps running across any environment (on-prem and hybrid/multi-cloud).
A series of advanced data management components that are part of the Portworx Data Services platform deliver more advanced storage capabilities, including database lifecycle management.