How To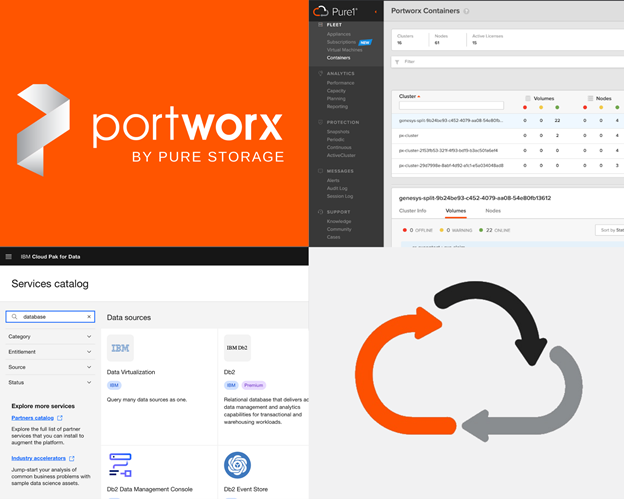 Pure has led the industry in cloud-based smart storage management with Pure1®. Pure1 provides a single view of all Pure arrays for monitoring, management, and predictive support. With Portworx Enterprise 2.8, customers can access Pure1 for Portworx clusters, so they can benefit from a unified view of all Portworx clusters for monitoring health and configuration and managing support cases. All the Portworx-Pure1 communication happens via a call-home channel secured via HTTPS and two-way authentication.
By combining Pure1 monitoring and management with Portworx Enterprise in production on Red Hat OpenShift, users gain a unified view of their data services running on Red Hat OpenShift. Only Portworx provides a fully integrated solution for persistent storage, data protection, disaster recovery, data security, cross-cloud and data migrations, and automated capacity management for applications running on Kubernetes. As a result, Portworx is the #1 most used Kubernetes data services platform by Global 2000 companies, including Carrefour, Comcast, GE Digital, Kroger, Lufthansa, and T-Mobile.
In this blog, you'll learn how to productively use Pure1 to monitor IBM Cloud Pak for Data on Red Hat OpenShift 4 with Portworx.
Monitoring Cloud Pak Clusters with Pure1
Before jumping into installing Portworx, make sure you confirm that your environment will meet the following prerequisites:
Portworx 2.8.0 or above
For Operator-based installations, Portworx Operator 1.5.0 or above
For DaemonSet-based installs, ensure that you have generated the Portworx spec using https://central.portworx.com/.
Outbound access to the internet to allow connection to Pure1
Portworx by Pure customer
Once you know you can adhere to the above requirements, simply install Portworx 2.8.0 or above. In the below example, we are using the OpenShift OperatorHub to select Portworx Enterprise Operator.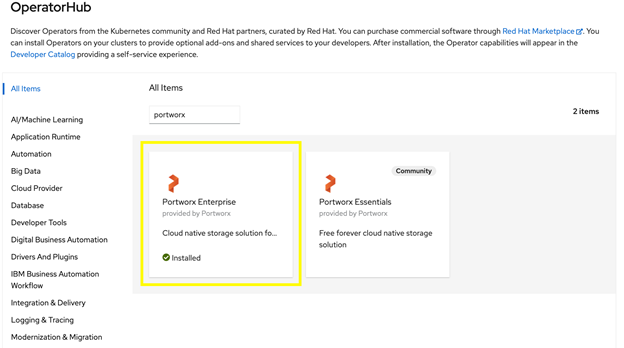 Once the operator is installed, head to https://central.portworx.com and create a spec for Portworx Enterprise. On the first screen, select the "Use the Portworx Operator" box.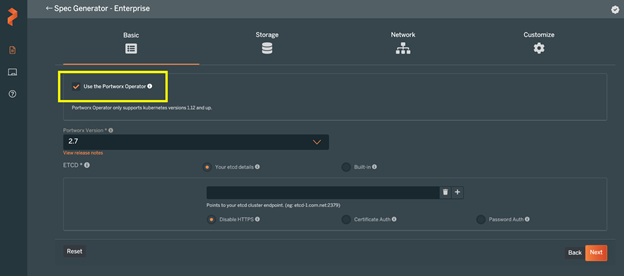 On the last screen during spec generation, select OpenShift 4+.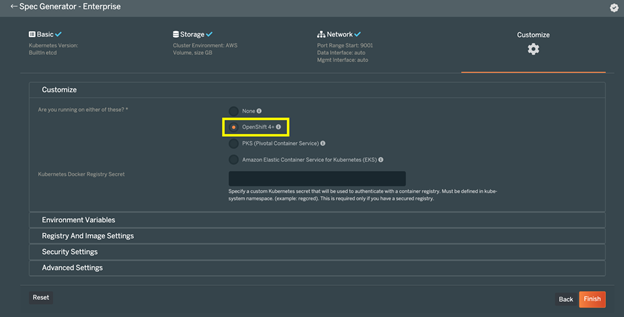 Navigate to "Advanced Settings" and select "Enable Telemetry."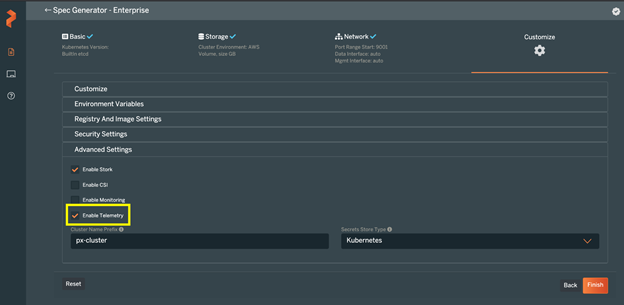 Once your Portworx cluster is installed and healthy, you can navigate to Pure1. Note that you will need to have Portworx administration access; you can retrieve this by contacting your Pure1 admin. Once logged in, select the "Containers" section from the left-side menu.
Note: This blog does not cover installing IBM Cloud Pak for Data with Portworx. You can find more information on how to do this by signing up for Cloud Pak for Data and following the How to use Portworx Storage section of the documentation.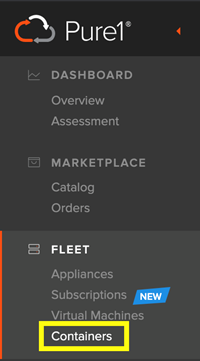 In this view, you should see your Portworx cluster listed by its Cluster ID with some basic information on Volumes, Nodes, Portworx version, Kubernetes version and License.

Select the Portworx cluster you wish to find detailed information on, and this will bring up a dialog below the cluster that has detailed information on the cluster, volumes, and nodes.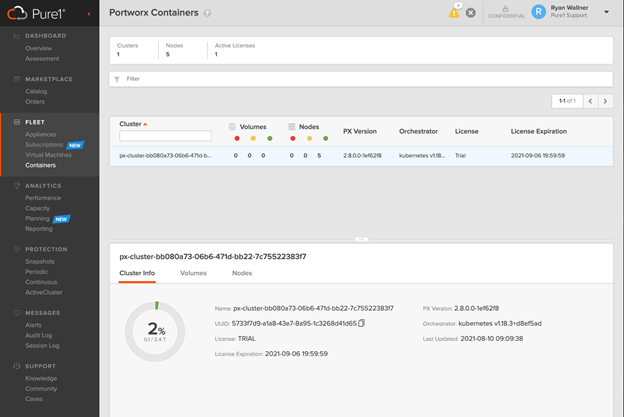 To see what nodes make up the Portworx cluster, click the Nodes tab. From here, we can see node information, such as the Red Hat Enterprise Linux CoreOS operating system used in our OpenShift and Cloud Pak environment.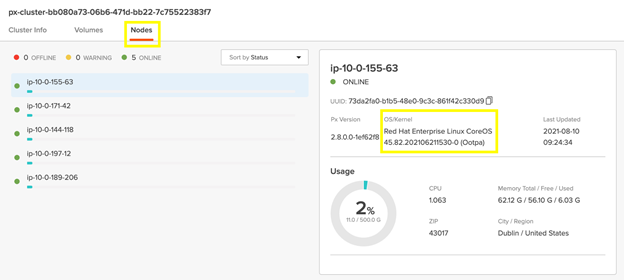 Now, navigate to "Volumes" where you can see the PVCs associated with our Cloud Pak for Data deployment:
cpd-install-operator-pvc
influxdb-pvc
cpd-install-shared-pvc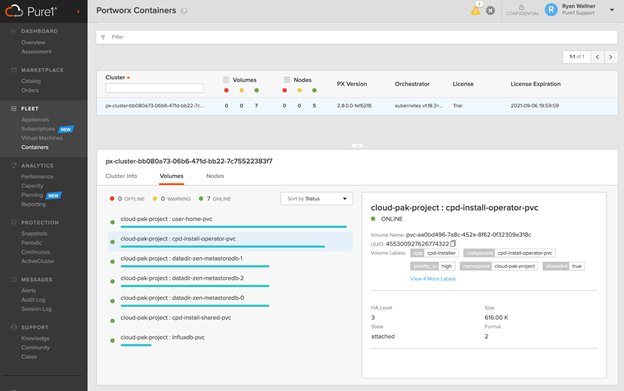 We can also take a look at specific PVCs relating to Cloud Pak services, such as IBM Watson Assistant or DB2.
First, let's look at an active deployment of DB2 in our OpenShift cluster running Portworx. The below screenshots show the DB2 instances, pods, and Portworx PVCs.



Within Pure1 we can also view our Portworx volumes used for DB2 on CloudPak.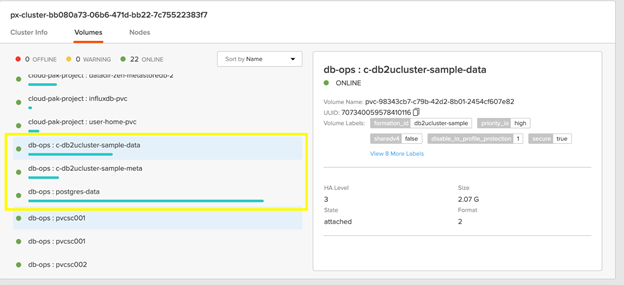 Furthermore, we can click on individual PVCs to get details such as which labels are set based on our IBM CloudPak DB2 deployment.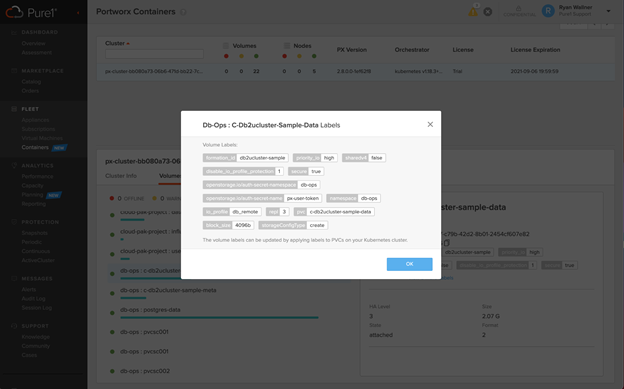 In conclusion, when combining Pure1 and Portworx, you can gain insights and management and easily open support cases. This can help raise awareness and understanding of your Cloud Pak for Data services on OpenShift as well as enable Admins and your DevOps team to troubleshoot or monitor Cloud Pak services.
Share
Subscribe for Updates
About Us
Portworx is the leader in cloud native storage for containers.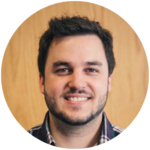 Ryan Wallner
Portworx | Technical Marketing Manager