October 21, 2019
IBM Cloud Pak and IKS customers now have integrated access to Portworx Enterprise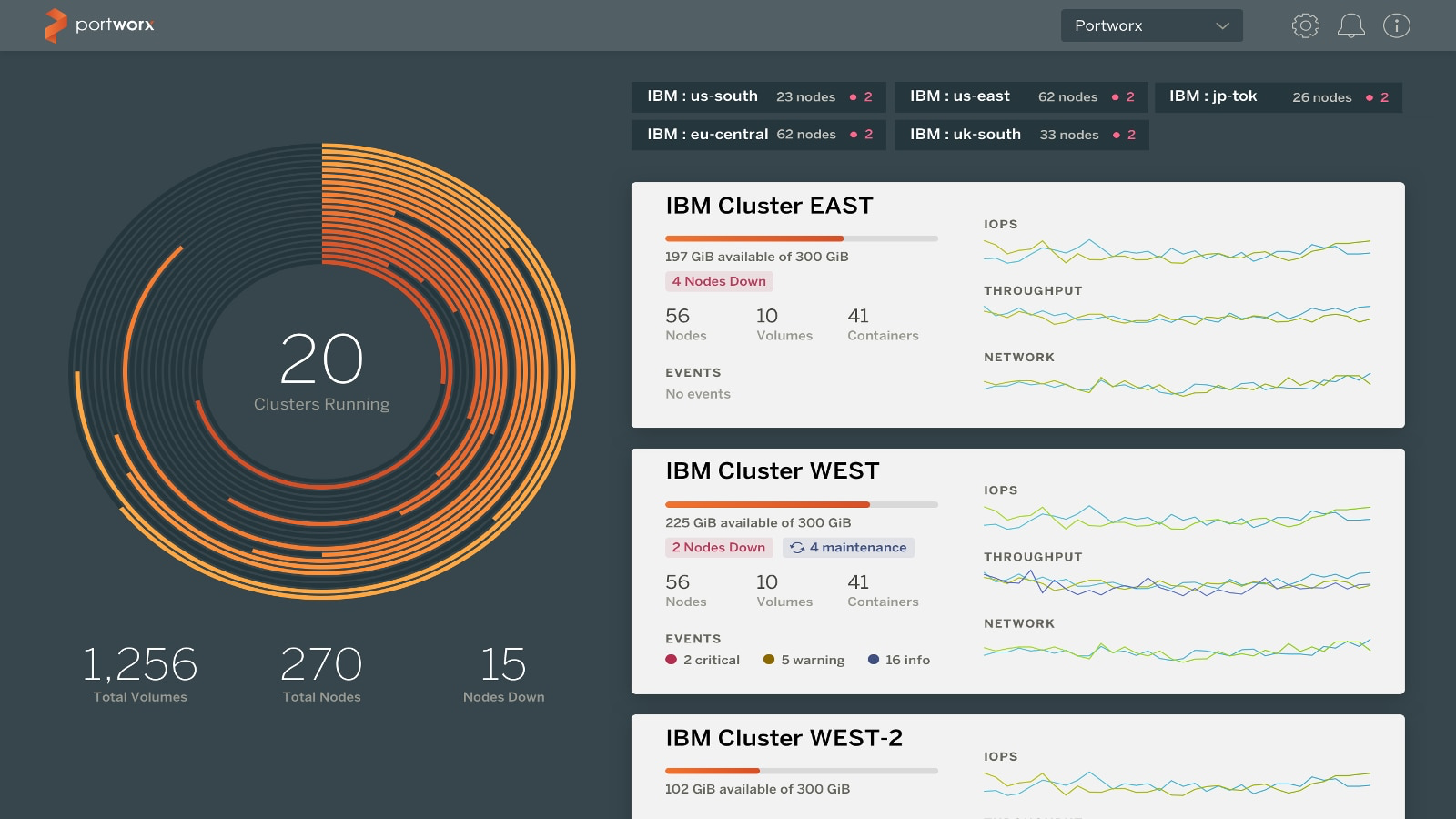 Portworx has been selected as an IBM Business Partner for IBM Cloud Kubernetes Service (IKS), enabling mission critical stateful workloads like databases and data analytics to run on IKS with high performance and high availability throughout the entire application lifecycle. IBM Cloud Pak for Data, a fully integrated data and AI platform that modernizes how businesses collect, organize and analyze data, also now includes Portworx Enterprise with every deployment.
With Portworx Enterprise, IBM Kubernetes Service and Cloud Pak for Data development teams can spend less time on storage and data management and more time driving innovation. Portworx solves essential business problems associated with running a large scale data and analytics platform in containers:
High I/O performance when running stateful applications on IBM Kubernetes Service and IBM Cloud Pak for Data.
High availability of data in a single data center, across availability zones and clouds.
Data security through encryption of data in flight and at rest.
Role-based access controls to data integrated with corporate authentication systems.
Disaster recovery and business continuity across cloud and on-prem environments.
This offers an optimal user experience for IBM Cloud customers by radically simplifying operations of data services on IKS and Cloud Pak for Data. Now, IBM Cloud customers can choose to run their mission-critical stateful services backed onto either remote block storage, or local storage with both options managed by Portworx, enabling dynamic storage provisioning, high availability, encryption, automatic backup and recovery and hybrid and mutli-cloud operations. Portworx has been tested and qualified with popular IBM Cloud offerings including Watson Studio, Blockchain, DB2 and MQ.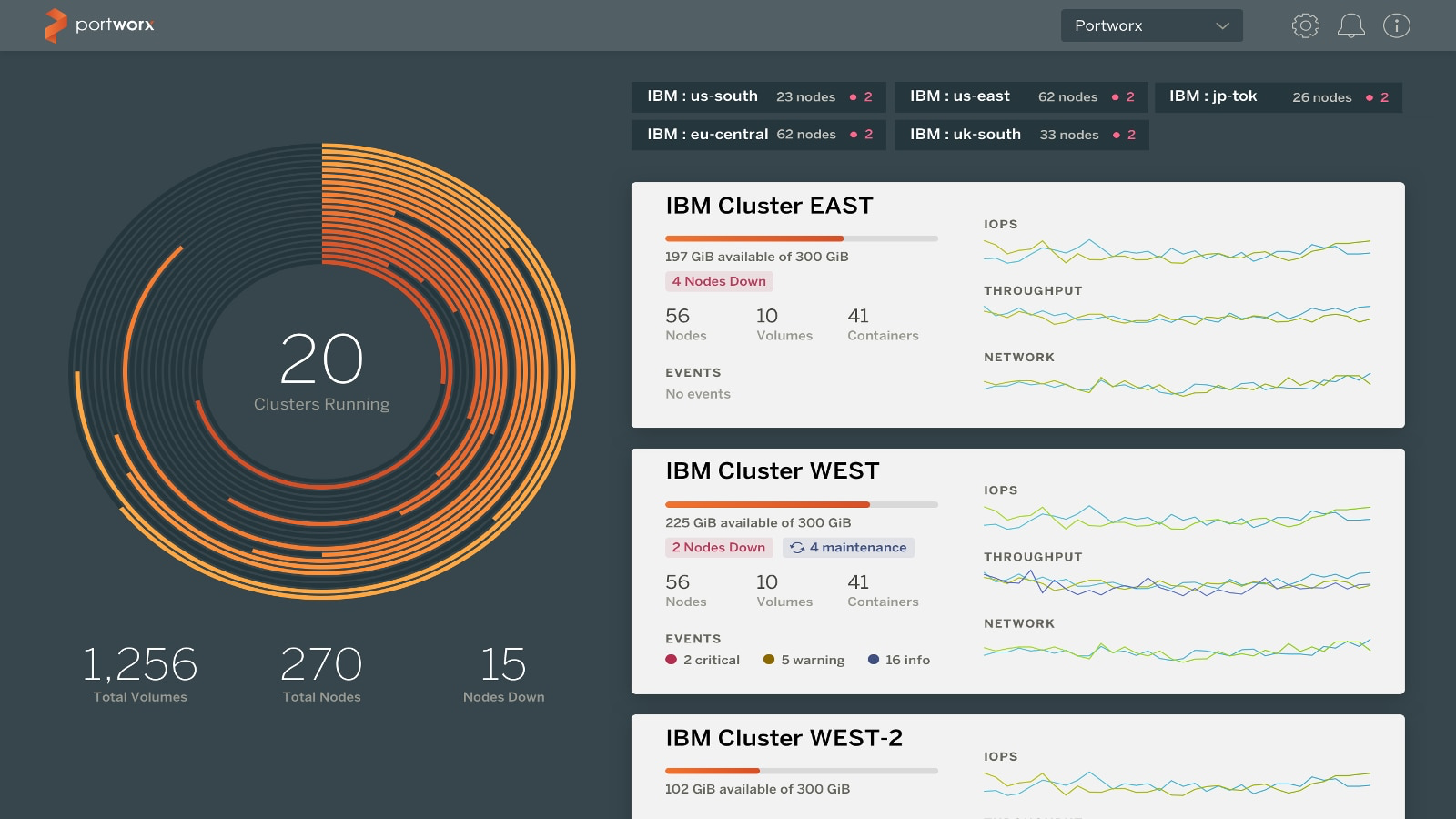 Container storage with IBM Kubernetes Service and Portworx
Enterprise adoption of container orchestration technologies is rapidly increasing, with 43 percent of information technology administrators claiming Kubernetes as their primary container orchestration tool. However, operating high-performance, highly-available and fully automated data services on Kubernetes has traditionally been a challenge for enterprises. Typically, enterprises have either opted for the high availability provided by traditional enterprise storage systems, sacrificing container-granular capabilities and performance, or local storage which is fast but difficult to automate.
Now, with Portworx, enterprises no longer have to settle for one or the other, instead, they can fully automate data management for the entire application lifecycle, enabling both performance and agility.
"IBM has been a leader in enterprise IT for decades and with their moves into innovative technologies like containers, Kubernetes, and artificial intelligence, their customers have an enormous breadth of options for building and running their mission-critical applications," said Murli Thirumale, co-founder and CEO of Portworx. "We're proud to be an IBM Business Partner, enabling a growing number of customers to take advantage Kubernetes' rich and mature ecosystem, including Portworx for data management of containerized applications."
Portworx is available for IBM Cloud Kubernetes Services and Cloud Pak for Data today. For more information about how IBM and Portworx simplify cluster management, contact us, or visit Portworx in the IBM Cloud Marketplace.