News & Commentary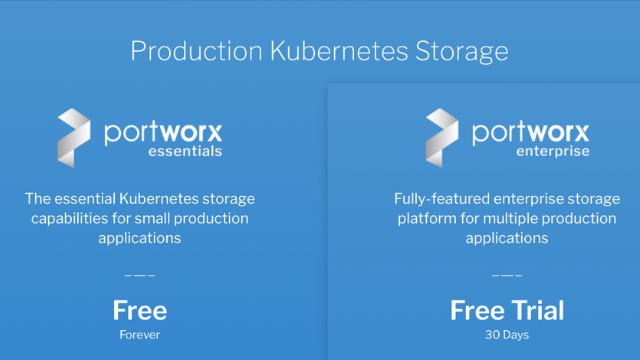 We recently announced the availability of Portworx Essentials — the free forever version of our Portworx Enterprise offering that enables more users to adopt Kubernetes for their production applications. To recall, Portworx Essentials is a collection of the most essential capabilities needed to run stateful services like databases on Kubernetes in production. Since launch, we have seen a tremendous response from users for Portworx Essentials. They are discovering that it is the perfect solution for kickstarting their deployment while allowing them to grow over time as they mature their solutions.
Portworx is the #1 choice for customers requiring enterprise scale for multiple applications along with robust security and data protection for mission-critical applications. While Portworx supports all Kubernetes platforms, more than a third of our customers successfully run Portworx Enterprise on two of the leading Kubernetes platforms today—Rancher and OpenShift. For this reason, we have invested heavily in integrating with these solutions, and it is paying off for our customers. For example, RedHat named Portworx the best operator on OpenShift at OpenShift Commons (KubeCon San Diego) last November, driven in part by our "level 5" automation capabilities of PX-Autopilot.
Today, we are proud to announce the availability of Portworx Essentials on Rancher and OpenShift. You can explore the complete capabilities of Portworx Essentials and start using it directly from these environments.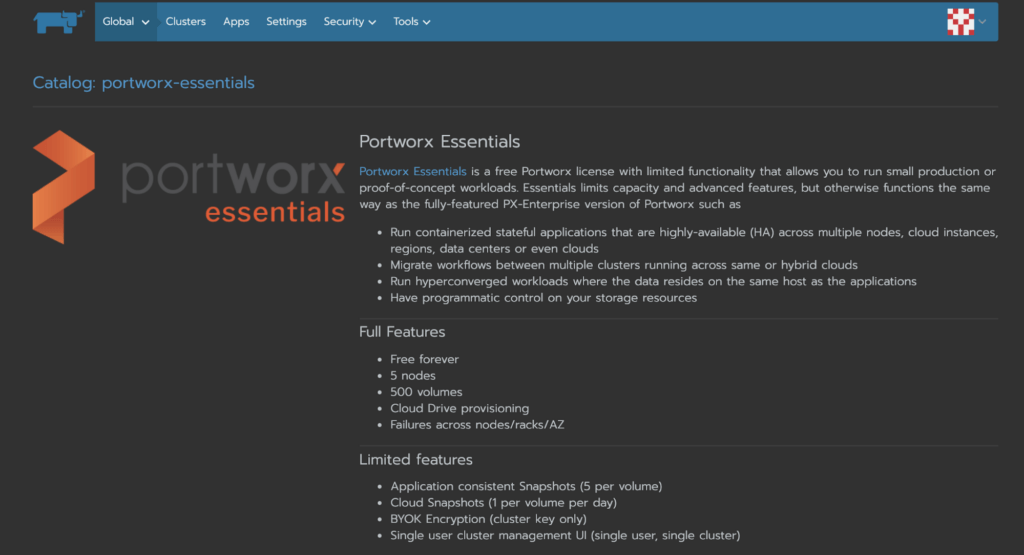 In the Rancher catalog, if you search for "portworx," you will now see Portworx Essentials alongside Portworx Enterprise.

Similar to any helm install, you will be required to specify the deployment environment, storage configuration, and other parameters in the Rancher UI to generate the helm chart to install Portworx Essentials. The only new field that you would need to provide is the "Entitlement ID" to activate your Portworx Essentials license.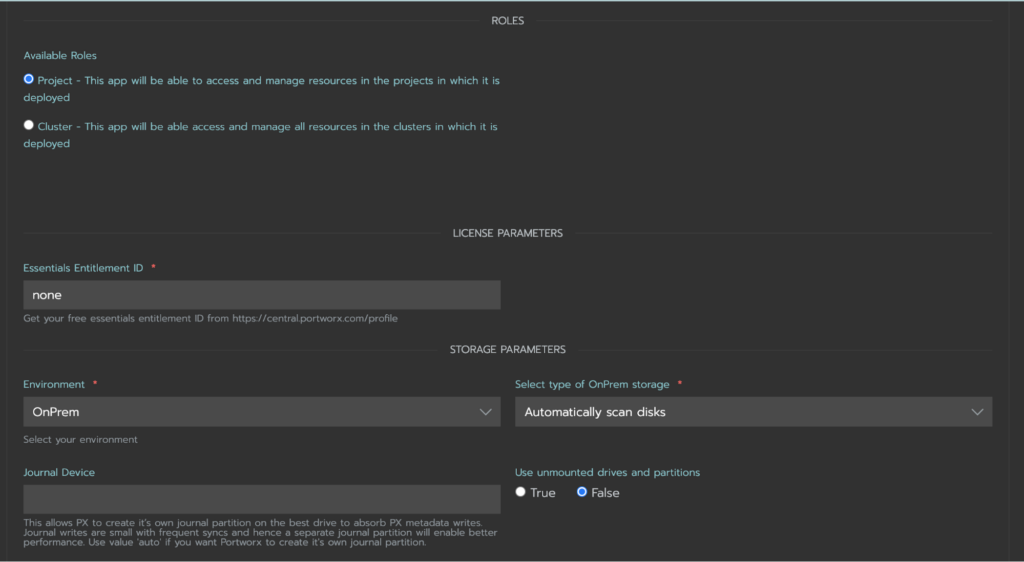 You can fetch the Entitlement ID by signing into your PX-Central account and clicking to your profile page. The rest of the install process remains the same. When the cluster is active, you will see it on Rancher, but it is also linked to your PX-Central account.
With OpenShift, you can now use the new "Portworx Essentials" operator to install Portworx.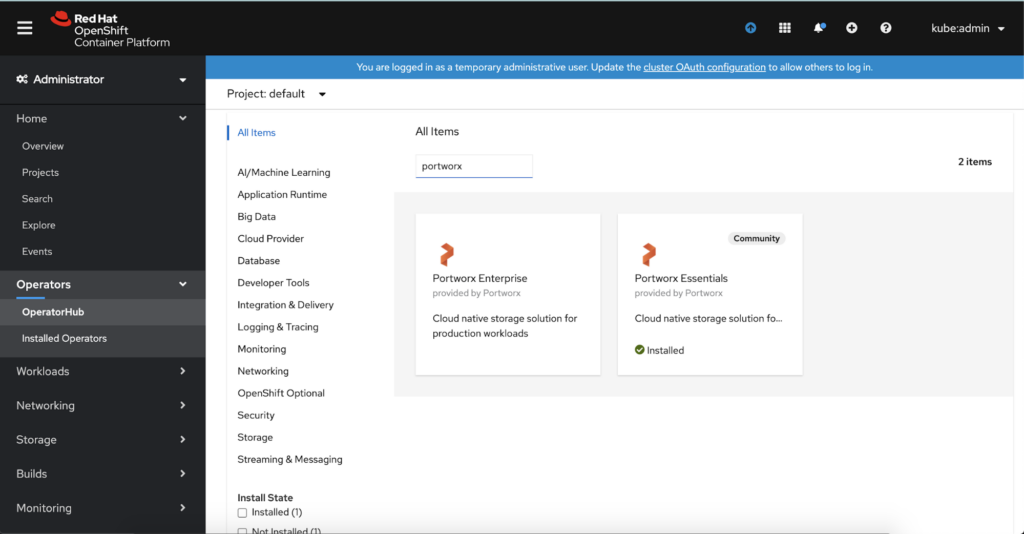 The operator lists the description of the Portworx Essentials offering, and the steps are similar to the Portworx Enterprise operator on OpenShift—the one exception is that you will need to fetch the "Entitlement ID" from your PX-Central profile page to create a PX-Essential secret (as described in the prerequisites below) before creating the StorageCluster.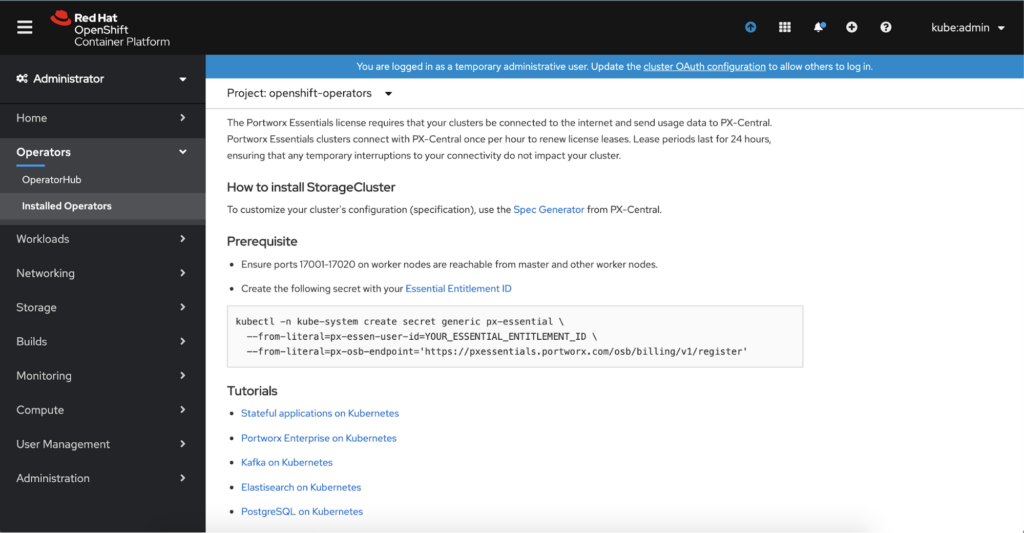 If you have any questions on Portworx Essentials, you can post them on our forums. We look forward to hearing from you as you deploy the most advanced cloud-native solution on two of the most popular managed Kubernetes platforms.
Share
Subscribe for Updates
About Us
Portworx is the leader in cloud native storage for containers.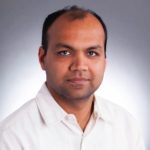 Prashant Rathi
Portworx | Director of Product Management