August 12, 2021
Getting Started with PX-Backup using the AWS Marketplace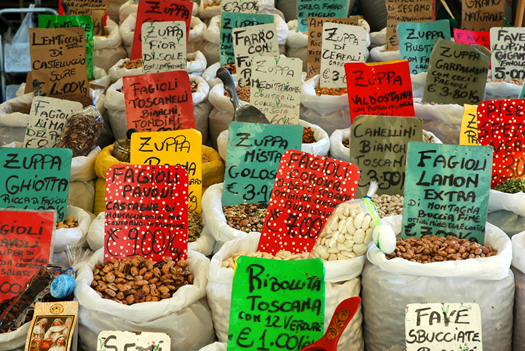 Portworx announced Kubernetes Backup is now available in the AWS Marketplace. Using the AWS Marketplace to deploy PX-Backup allows for a seamless installation and billing experience for Portworx customers running in AWS. Getting started with PX-Backup is as simple as performing the following steps:
Launch or use an EKS cluster.

Subscribe to PX-Backup in the AWS Marketplace.

Connect your EKS cluster to your subscription.

Install PX-Backup via Helm.
That's it—a seamless workflow to start using PX-Backup in AWS to provide backup and recovery for all of your Kubernetes applications. 
New to PX-Backup? Let's recap what it's all about.
PX-Backup is a Kubernetes backup solution that allows you to back up and restore applications and their data across multiple clusters. PX-Backup works with PX-Central, allowing you or any other approved users to manage multiple clusters and their backups from a single UI. Under this principle of multitenancy, authorized users connect through OIDC to create and manage backups for clusters and apps that they have permissions for without needing to go through an administrator.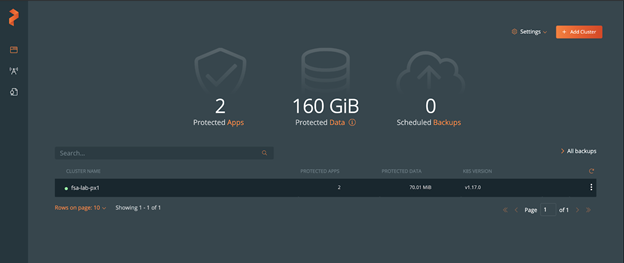 PX-Backup is compatible with any Kubernetes cluster—including managed and cloud deployments like those on Amazon EKS—and does not require Portworx Enterprise to be installed.
Getting Started
First, you will need an AWS account. If you do not have one yet, sign up. Then head over to the landing page for Portworx PX-Backup on AWS Marketplace. You can get to the landing page by clicking on this link.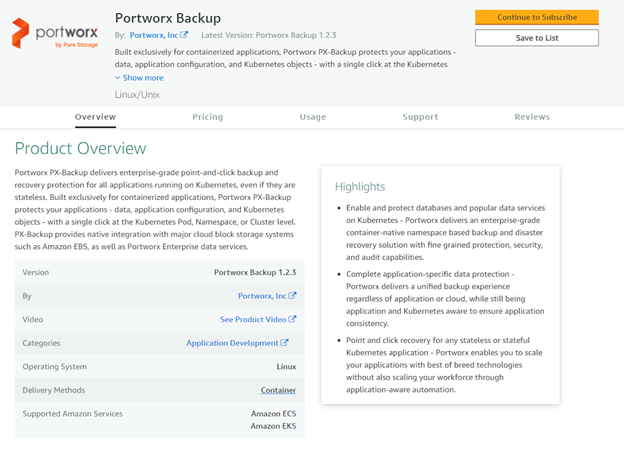 Once you subscribe to PX-Backup in the marketplace, you will then select the delivery method and launch the offering. From there, you will follow the Portworx documentation on how to connect your PX-Backup cluster to the subscription and install PX-Backup. 
PX-Backup is installed by the following steps: 
Head over to PX-Central and generate a PX-Backup Spec that is configured for your AWS cluster and requirements. Then simply run the commands against your AWS cluster to install PX-Backup.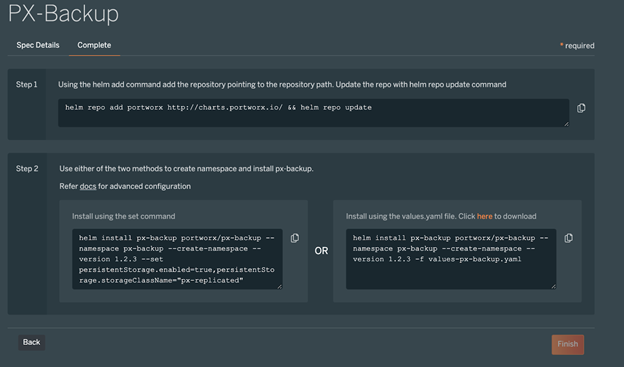 Here is a short demo of the installation and getting started experience of PX-Backup via the AWS Marketplace.
We are excited about this new opportunity on AWS Marketplace. Ready to get started? Try Portworx for free today, or get started in the AWS Marketplace.
Learn more about Portworx and AWS Marketplace:
For any additional questions and feedback, please contact us.