September 15, 2022
Announcing Portworx Backup 2.3 for simpler backup management and flexible licensing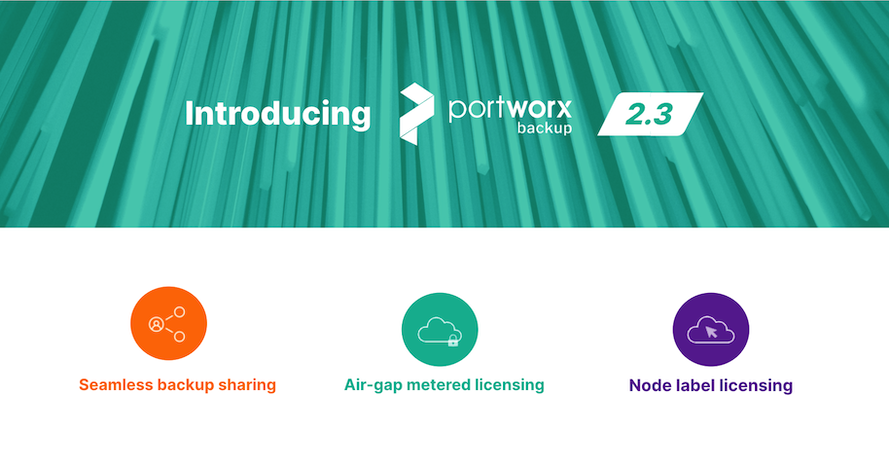 Portworx Backup 2.3 is now widely available! With the latest release, users can enjoy more ease of use options with backup sharing, as well as more pricing options across the product. These improvements make for easier, more collaborative use of Portworx Backup and pricing flexibility to meet your organization's unique needs. 
RBAC Backup sharing
Managing all the backups within teams is no simple task. If individual users cannot share access to their protected data, it blocks others from having visibility into the right clusters or backups. 
With Portworx Backup 2.3, managing backups is easier and more seamless across teams with backup sharing. Teams can commonly manage a pool of clusters and backups, reducing friction, increasing collaboration, and making it easier to track backup audit history. Users can share backup management within the organization and choose to allow others to restore, backup, or edit existing backups.
Additional licensing options
There are several additional licensing options users can enjoy with the latest release to tailor backup licensing to their specific infrastructure. These options include more flexibility in air-gapped environments and backup node labeling—giving users comprehensive control over how Portworx Backup is licensed.
Air-gapped backups now have more licensing model options, so you can choose what works best. You can now choose between node-based or consumption-based licensing for air-gapped backups. Use node-based licensing for predictable, fixed costs, or pay for precisely what you're using with the addition of consumption-based licensing.
The addition of backup node labels enable organizations to reduce costs and simplify license management. Node labels allow users to designate specific nodes as necessary to backup and others as unnecessary to backup. This allows you to flexibly run different types of applications, both stateful and stateless, in the same cluster, all while maintaining fine-grained license control.
Kubevirt VM support
Expanded support for backing up kubevirt-based VMs. Portworx Backup supports backup and restore of kubevirt VMs, so you can protect your virtual machine objects as well as your Kubernetes applications all in one place.
These are only a few key highlights from the latest Portworx Backup release. To learn more about what else to expect, and to get information on how to enable and use the latest features, please read the release notes. 
Portworx Backup is available as a self-managed service and a fully managed service for customers looking for a data protection service to handle Kubernetes workloads. Try Portworx Backup for free today!