May 18, 2022
Fast and Simple Data Protection with Portworx Backup-as-a-Service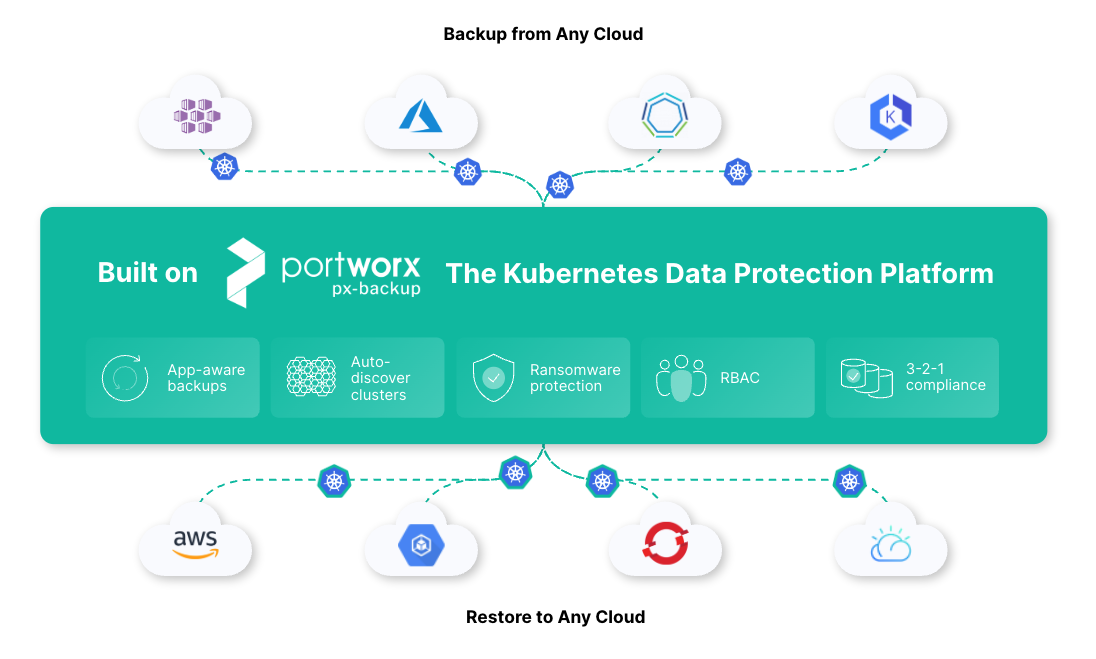 We are thrilled to announce the general availability of Portworx Backup-as-a-Service (BaaS)! This brand-new launch makes Day 0 and Day 2 operations simpler than ever with a managed control plane to speed up implementation of Kubernetes data recovery objectives, all while making backup fast, easy, and secure. 
What is Portworx Backup-as-a-Service?
Kubernetes are built to scale. You need a data protection solution that can keep up with the speed of app development, so you can run Kubernetes in production with confidence.
App owners find themselves spending more time doing less valuable work, like retrofitting a machine-based solution to backup Kubernetes apps or deploying, managing, monitoring, and upgrading data protection software in data centers instead of spending time on more high-impact work. 
Take the headache away from unnecessary data protection management and scale with a fully-managed solution that makes protecting Kubernetes applications easier and faster than ever. Built on top of PX-Backup, Portworx Backup-as-a-Service offers the same secure backup and restore, while offering unprecedented speed.
Safeguard apps at speed
Protect your Kubernetes applications faster than ever with a no-install solution that can onboard new clusters in just a few clicks.
Portworx Backup-as-a-Service boasts rich integrations with AWS, like cluster auto-discovery. Add EKS clusters in a specified region in just a few clicks, allowing you to onboard new EKS clusters with unprecedented speed. It is also hybrid and multi-cloud ready, so you have the flexibility to protect any of your applications—even ones hosted on other clouds.
A fully managed service frees up IT administrators and IT teams, so no longer need to manage manual processes like deployment configurations and software updates. Instead, they can focus their attention on more high-value work, and you can massively reduce overhead associated with lifecycle management, configuration and compliance to data retention policies. 

Organizations can also deploy multiple instances of Portworx Backup-as-a-Service, which offers a centralized, multi-tenant data protection control plane.
Manage all instances at the organization level with sophisticated role-based-access controls that give user types permission to access data, services, and admin tasks. So, you can set up all the backup instances you need to cater to different use cases, workloads, clusters, or business units with a centrally managed view.
On top of all of this, Portworx Backup-as-a-Service offers all the same feature-richness of PX-Backup:
Backup and restore in one click

: Quickly backup and restore in a single click, and fully protect all Kubernetes data, configurations, and objects with a container granular and app-aware solution

Sleep sound with safe and secure data

: Guarantee protection against ransomware with object lock and immutability; gain peace of mind with sophisticated RBAC and 3-2-1 compliance

Ensure business continuity

: Protect against failures or outages with low RTO/RPO disaster recovery 

Migrate apps anywhere

: Easily migrate applications between clusters, clouds, and regions within minutes 
The speed and simplicity of Portworx Backup-as-a-Service helps you securely protect all your Kubernetes data quickly and efficiently. Experience PX BaaS today by signing up for a 30 day free trial.