July 11, 2022
Announcing GA of Portworx Enterprise 2.11 release – Simplifying app deployments everywhere!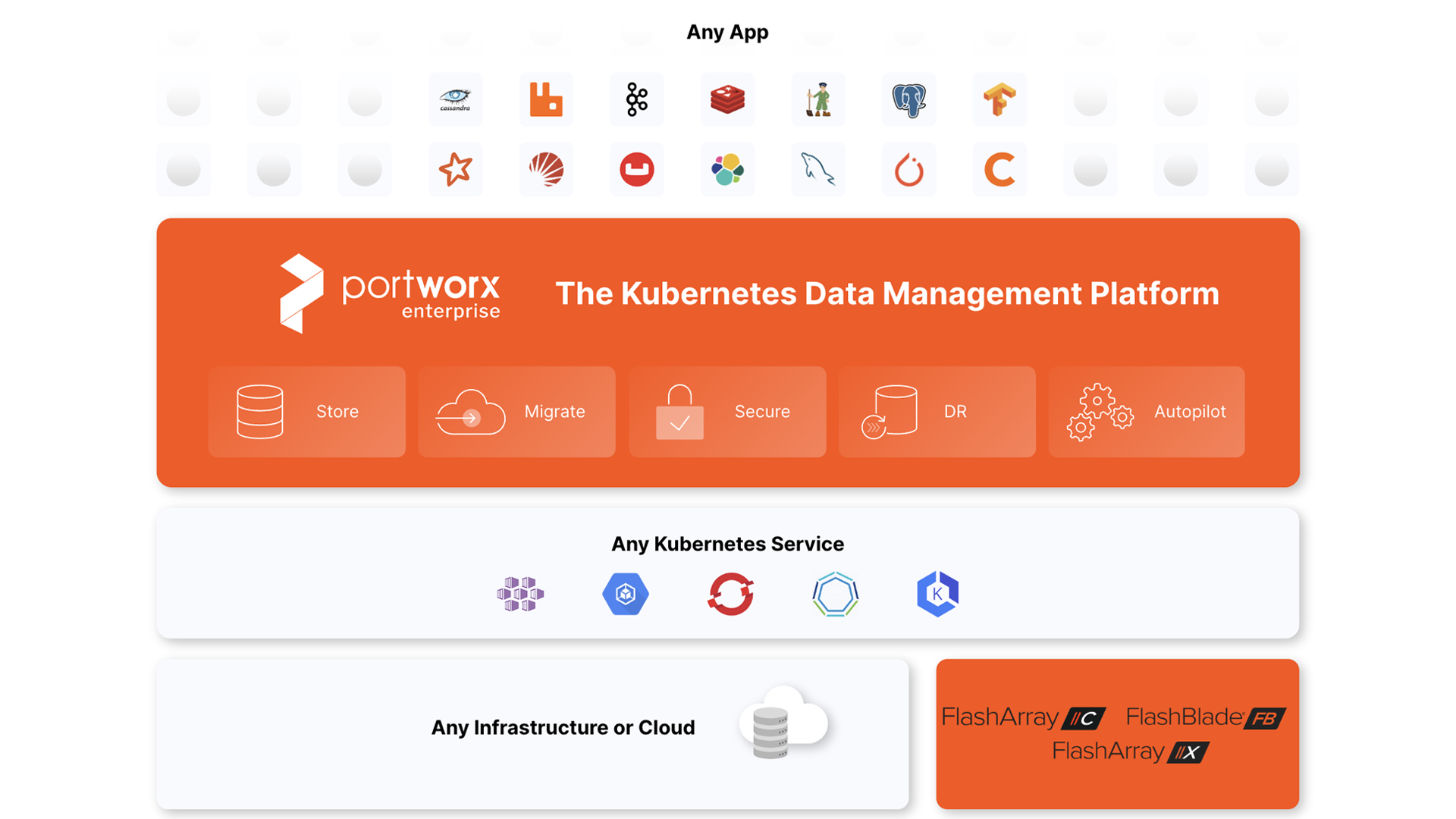 Enterprises and service providers are standardizing on Kubernetes for all their containerized applications, whether it's on-premises, in the cloud, or in edge environments. These customers are also looking to expand to new workloads and get better performance and efficiencies in Kubernetes production environments. 
With the general availability of the Portworx Enterprise 2.11 release, customers are able to not only expand to new workloads but also leverage Portworx integration with Pure FlashArray (FA) through FA Direct Access support. Other capabilities included in the release are Cloud Drives in IBM.
During Kubecon EU in May, we announced that the next generation of Portworx Enterprise unlocks new use cases that will help customers to bring varied workloads into Kubernetes production environments, boost developer agility, maximize application performance, and reduce failover time to seconds. One of the use cases is '5G Networks and Edge', with support of IPv6 capability in K8s deployments. As pointed out in this blog, customers can now deploy Portworx Enterprise on IPv6-only upstream Kubernetes clusters with local disks and get all the basic features of Portworx like dynamic provisioning of block and file based persistent volumes, data protection using snapshots, monitoring using metrics/alerts, and PX-Autopilot capabilities to expand your persistent volumes based on autopilot rules.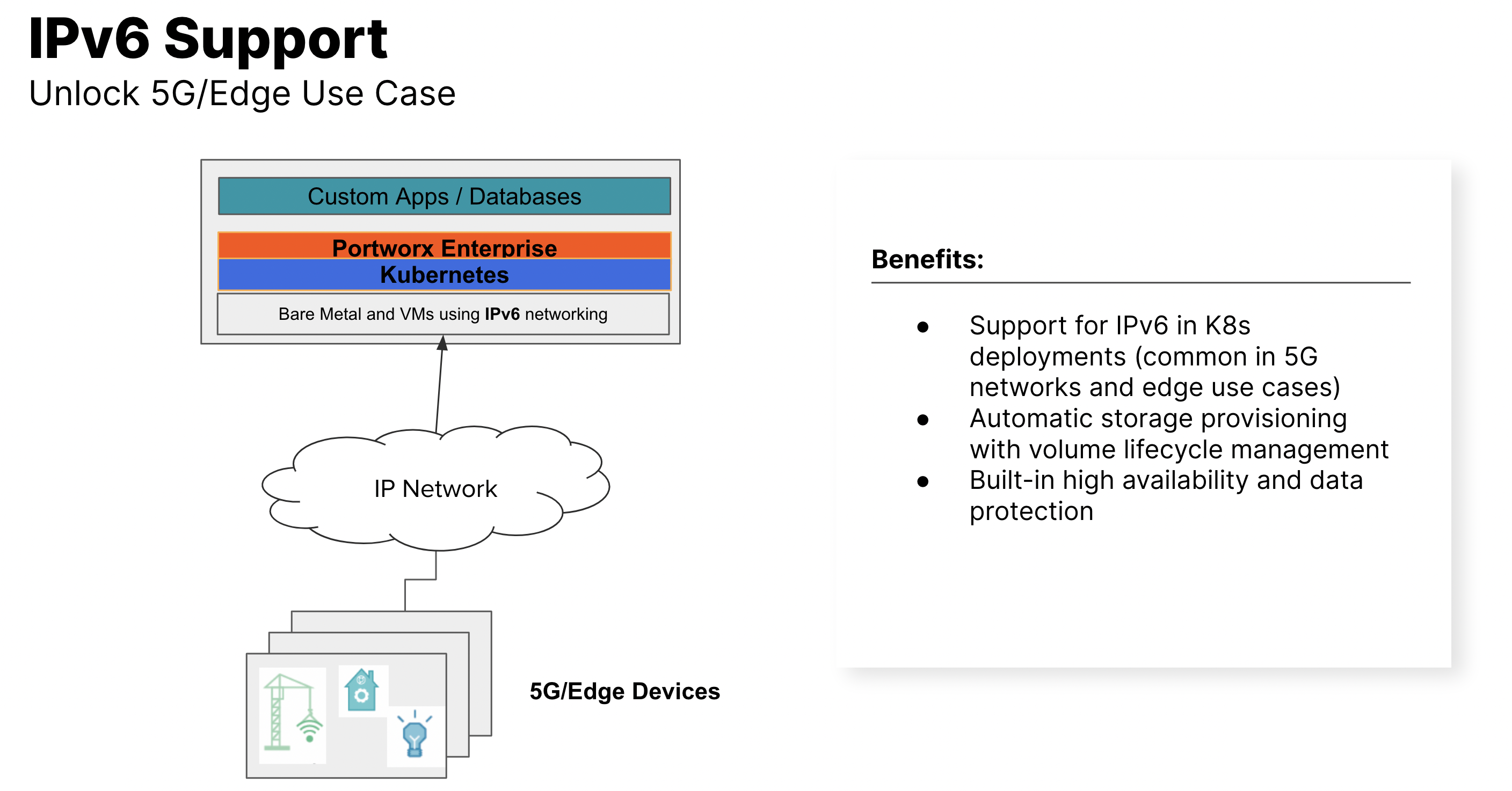 Another new use case expansion with this release is the 'Lift and Shift of Legacy Apps' with the support of VM migration, backup, and restore capability. Customers have begun to modernize VMs with a mix of workloads running on containers as well as VMs. There is a need for a transformation path for legacy VM-based apps to be added to new and existing apps running on containers or maintained as VMs on containers. For Kubervirt/Openshift virtualization customers, Portworx now supports VM lifecycle management operations such as backup, restore, and VMotion for migration of VM objects between clusters using Stork.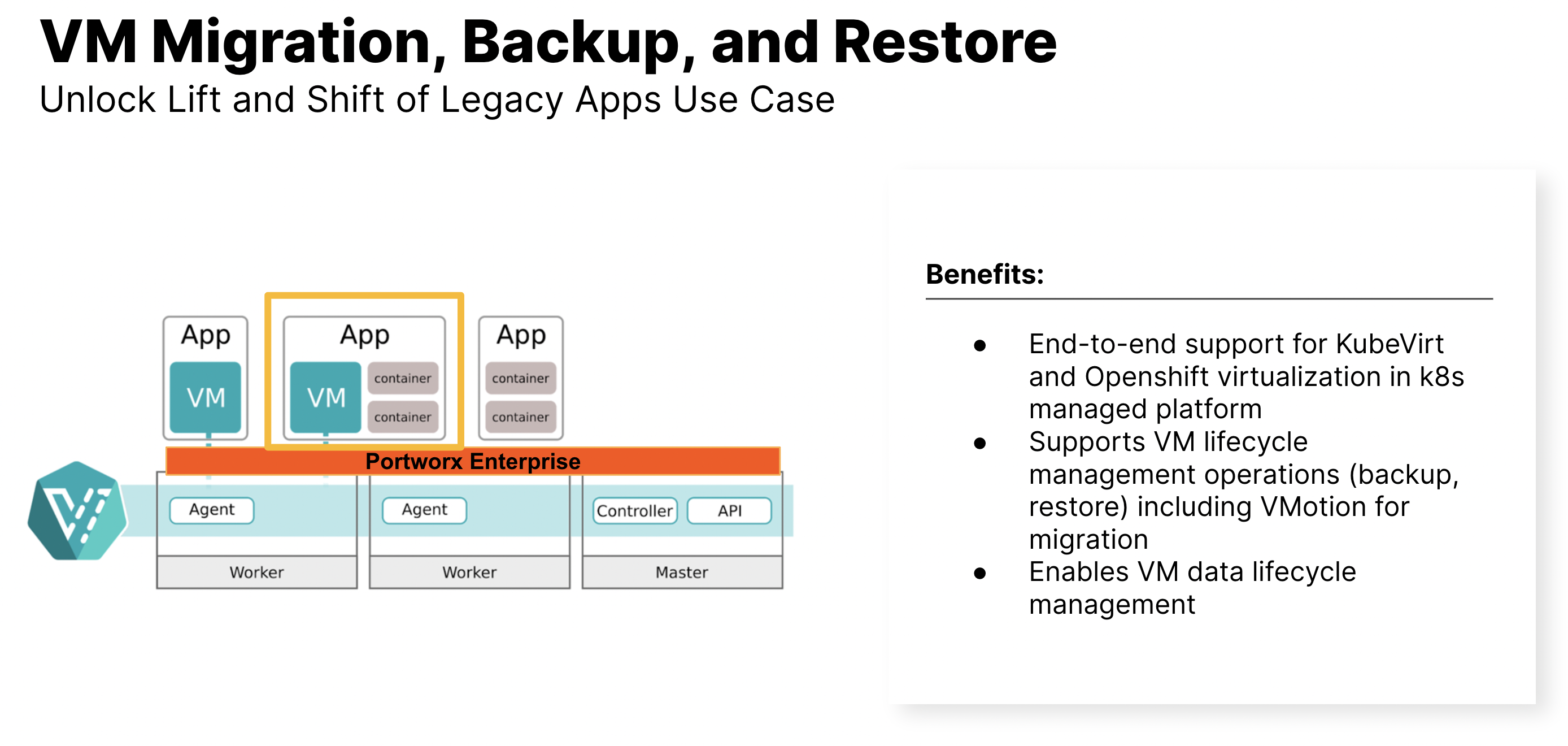 The 2.11 release also adds Pure FlashArray (FA) Direct Access capability, enabling automated storage provisioning directly on Pure FA. Direct access is required for deployments where customers want to double down on FA investment for container apps and have direct mapping from PVC to FA volumes. With FA/FB integration with Portworx, customers can now leverage single vendor support for storage HW and K8s storage services.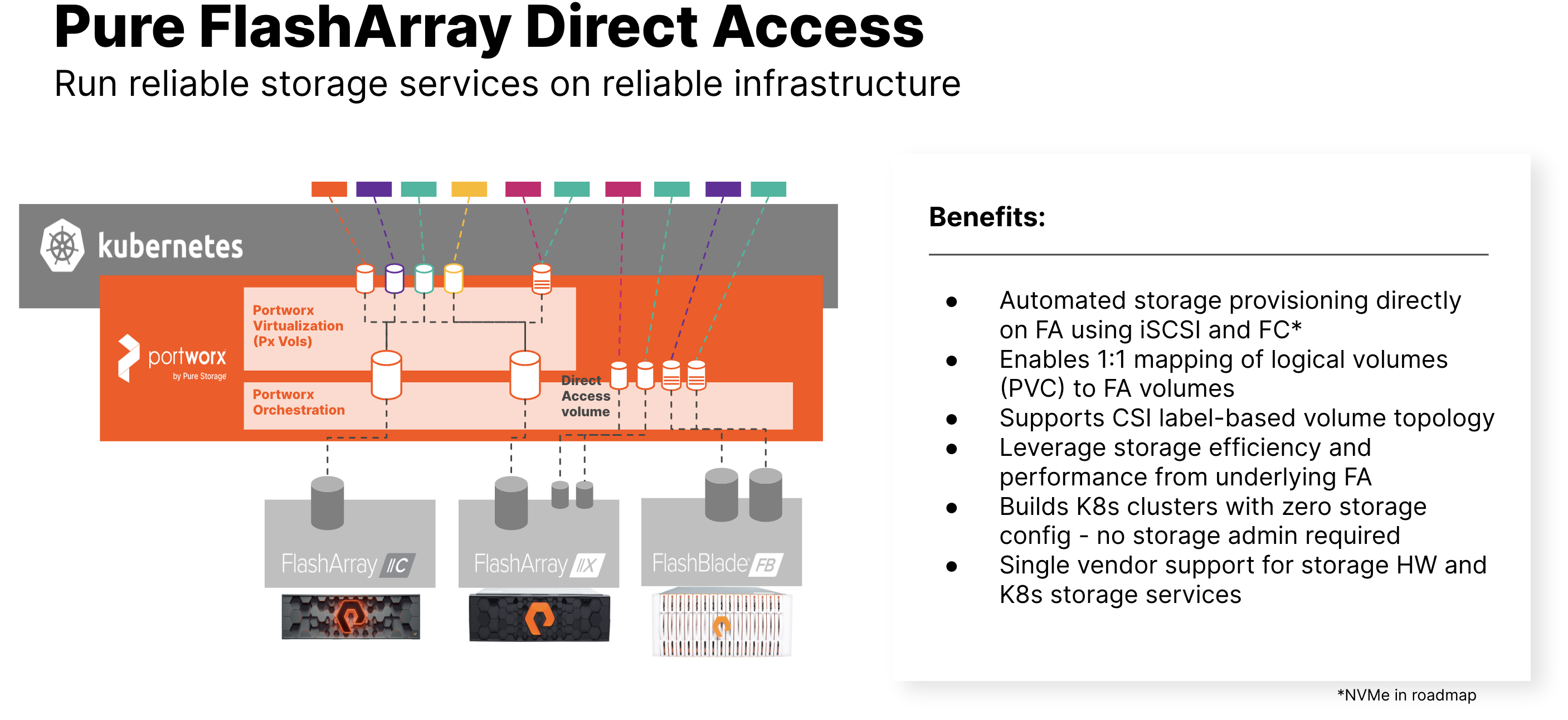 With this release, Portworx now brings automated disk management and provisioning with the support of cloud drives capability for IBM Cloud Kubernetes (IKS) clusters in IBM cloud. Customers can now leverage simplified storage management for IBM IKS clusters.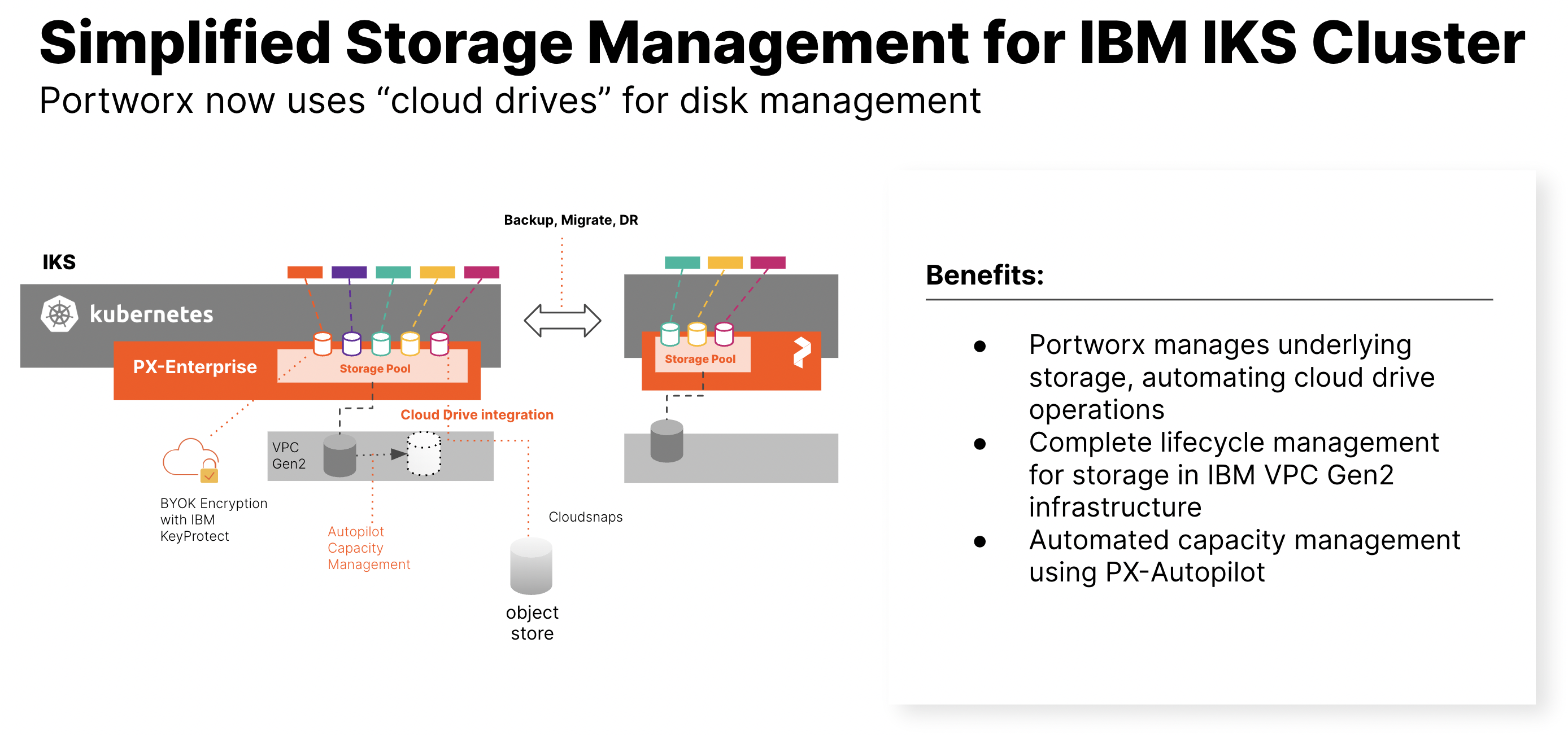 To summarize, leverage Portworx Enterprise 2.11 release to expand into varied workloads in K8s production environments and as you modernize your underlying FA/FB storage infrastructure. It gives you one complete solution for addressing the data needs of both your K8s and non-K8s applications.
To learn more, use the following resources:
Portworx Enterprise 2.11 Release Notes
Tech Demo on IPv6