June 6, 2023
Why You Should Join Portworx at Pure//Accelerate 2023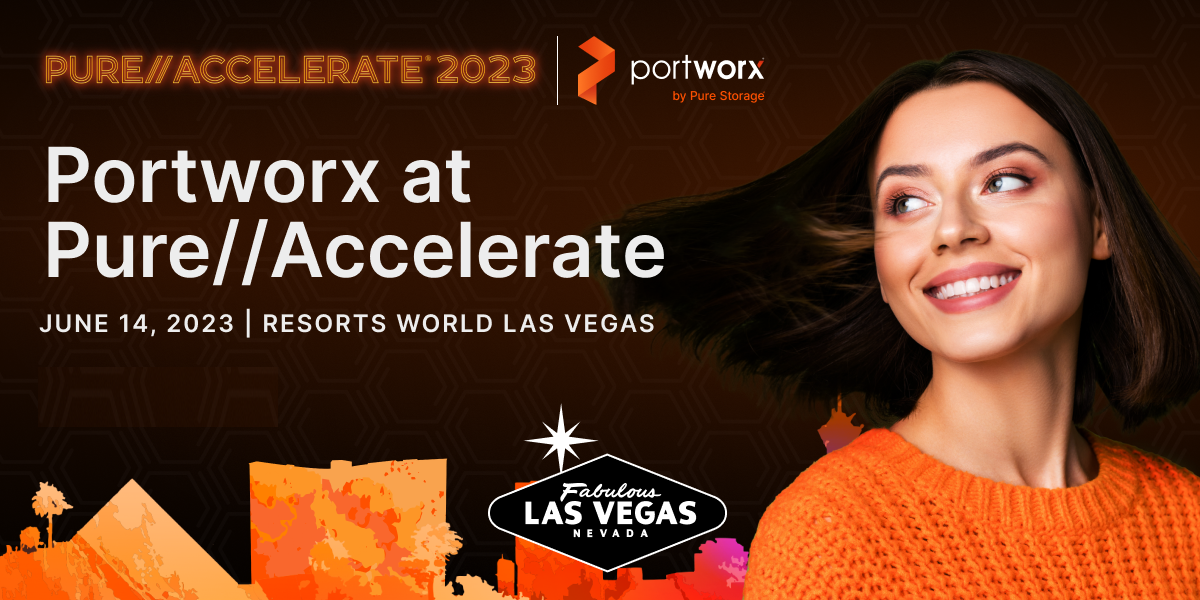 This year, Pure//Accelerate 2023 (June 14-15) will be held in sunny Las Vegas, Nevada at one of the newest hotels on the strip—Resorts World. We are already one week away, and Portworx by Pure Storage will offer plenty of opportunities to keep a pulse on the latest industry trends, help you advance your career by expanding or building on your cloud-native toolkit, and build your professional network through social activities.
Our presence at Accelerate is catered to both seasoned cloud-native professionals and storage and IT professionals looking to develop their cloud-native skillset. There are many ways to engage with Portworx throughout the conference—from hands-on labs and breakout sessions—so mark your calendars and see a preview of the programs we will have available.
Portworx Hands-On Lab Office Hours
June 13, 10:00am–4:00pm PT
Drop by at your convenience to experience hands-on labs and demos with our technical product experts, so cloud-native experts and emerging talent alike can learn more about how Portworx can help deliver applications faster, reduce cloud costs, and scale your modern applications with ease. Labs and demos will include topics such as:
Kubernetes 101

Portworx Enterprise installation and core features

Portworx Backup and data protection

Enabling proper disaster recovery and business continuity using Portworx

Deploying modern databases in minutes with Portworx Data Services
Embracing Innovation with a Cloud-Native, Developer-First Platform
June 14, 11:00am–11:45am PT
In this session, learn the power of adopting a cloud-native approach and prioritizing developers for continuous innovation by leveraging Portworx by Pure Storage and Red Hat. This session shares real-world case studies, highlighting successful cloud-native transformations and strategies to overcome challenges. 
Infrastructure and Platform Teams—Unite!
June 15, 11:00am–11:45am PT
Are you a traditional infrastructure admin getting hammered by requests from application modernization or platform teams? Come join us and learn how the Portworx portfolio builds upon many of the same concepts and enterprise-grade features that you are accustomed to.
Catch Up and Skill Up to Become a Kubernetes Admin
June 15, 1:00pm–1:45pm PT
Organizations running Kubernetes at scale in production has led to the expansion of responsibilities for virtualization admins. In this session, you will learn how to become a Kubernetes admin that builds and delivers platforms for developers. You will learn Kubernetes basics, and how Portworx delivers the features needed to build modern apps.
Register for Pure//Accelerate here, and download the Pure Events app on the Google Play or App Store to sign up for any Portworx sessions and labs in advance to reserve your seat! If you're curious to learn more about all the sessions Portworx will have available, read Your Guide to Portworx at Pure//Accelerate 2023.