June 28, 2023
What You Missed from Portworx at Pure//Accelerate 2023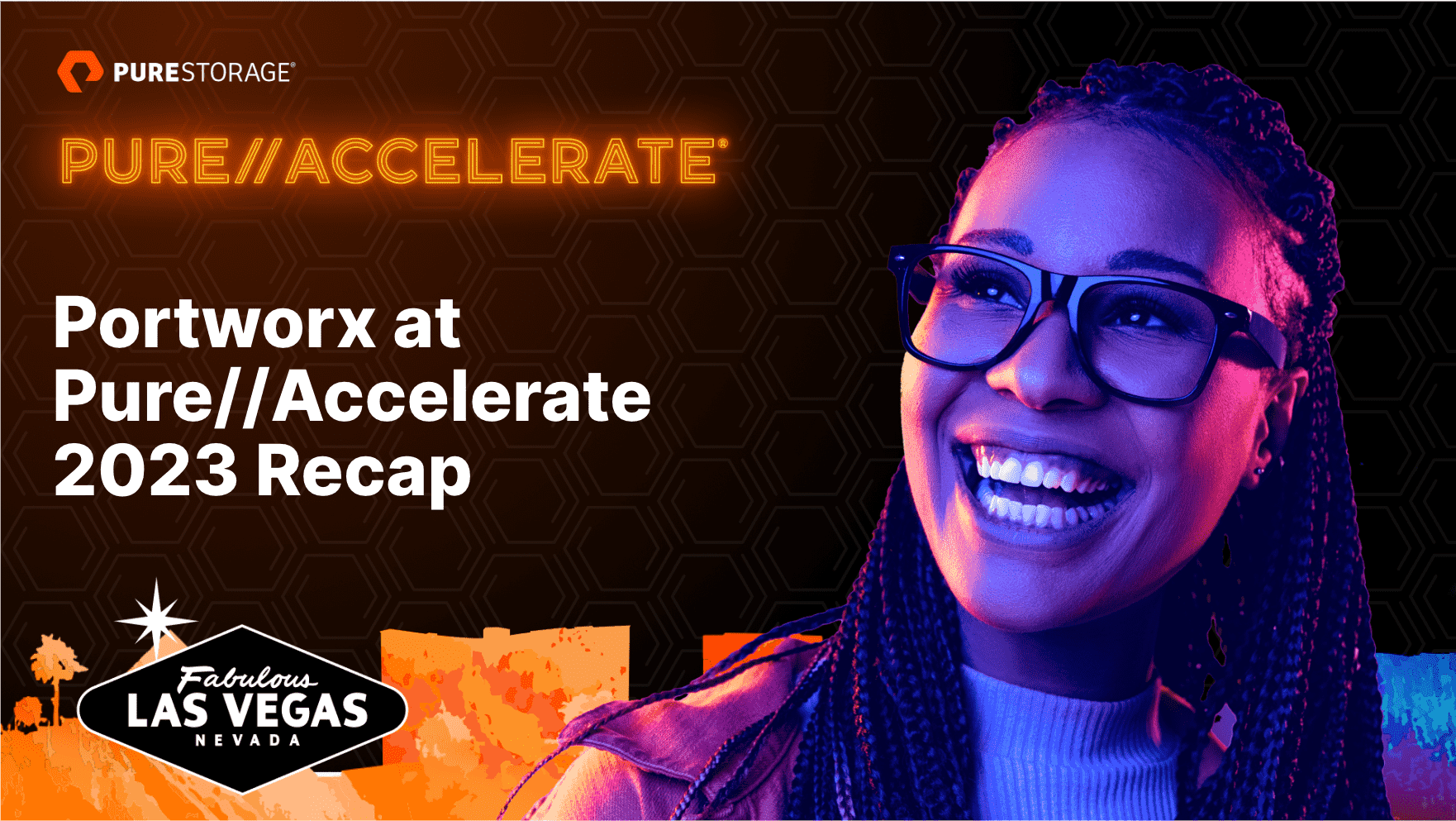 That's a wrap on Pure//Accelerate 2023! This year, over 1,100 storage professionals went to Las Vegas, Nevada to gain insights into the future of storage, where CEO Charlie Giancarlo gave the bold claim that disk is done.
Portworx came to you live from Vegas with three action-packed days filled with sessions and hands-on labs for attendees to build their cloud-native toolkit, regardless of whether they were a seasoned expert or curious to learn more on container storage. If you missed any sessions or couldn't make it to the event of the season, read on for a few key highlights from the event:
Keynote
Johnson Controls won the 2023 Cloud Champion breakthrough award for their multi-cloud strategy using Portworx. Vice President of Technology, Platform Engineering, and Reliability Engineering, Suresh Mothikuru, joined the keynote stage to speak about how Johnson Controls adopted containers for better operational observability and performance tracking.
"It's essential that our entire business runs on the same scalable infrastructure so we can measure the success of every product and service using consistent metrics," said Mothikuru. "As a cloud-agnostic Kubernetes storage solution that integrates with every major platform we use, Portworx is perfect for the job."  
Read the "Pure Cloud Champion Award: Johnson Controls" blog for more information on the Johnson Controls story.
Breakout sessions
GM and VP of Portworx, Murli Thirumale, led the Portworx Kickoff, "How Portworx Customers are Building a Cloud-Native, Developer-First Platform", where he spoke to the audience about how shifting market dynamics have changed the innovation cycle from 10 years to two. Portworx customers have been able to shorten their innovation cycles to keep their competitive edge by empowering their platform engineering teams and adopting cloud-native agility with AI-readiness.
Kendra McCormick, Sr. Manager of Infrastructure Services at HealthEdge, joined Portworx onstage to discuss how HealthEdge used containers to build an application for managing a database of customers that used to take 100 hours/month to maintain.
Now, by leveraging the power of containers and Portworx, HealthEdge engineers now only spend 2 hours/month for the same process. This success has given HealthEdge the confidence to drive more difficult and complex containerized workloads with Portworx as a partner.
Hands-on-lab workshop
Finally, the Technical Marketing Engineers at Portworx led hands-on lab office hours so attendees could get a chance to put their hands on their keyboards and experience first-hand how Portworx can help deliver applications faster, reduce costs, and scale modern applications with ease. Experience the hands-on labs for yourself to test out Portworx or run the Kubernetes 101 lab to familiarize yourself with Kubernetes. These labs expire July 31st, so act fast!
Thank you for joining us at Pure//Accelerate 2023, and we hope to see you next year! In the meantime, check out our Portworx at Pure//Accelerate 2023 resources.