How To

Enterprises are modernizing their infrastructure and Kubernetes is becoming the preferred choice to build cloud-native applications. More and more businesses are moving stateful and mission-critical workloads to a microservices- and container-based architecture that can work seamlessly both on-premises and in the cloud. Portworx® has been leading the charge in the transformation by providing application-centric storage services and allowing you to scale your applications and the storage footprint.
To meet your needs, we're adding Portworx PX-Backup to the IBM Cloud catalog as an integrated data protection offering for IBM Cloud Kubernetes Service and Red Hat OpenShift on IBM Cloud. Portworx has been collaborating with IBM Cloud over the last few years and already provides cloud-native storage for mission-critical applications. Today, this adds PX-Backup, an enterprise-scale data-protection offering built for Kubernetes, to IBM's catalog.
As you bring stateful applications to production, data protection becomes very critical. You need a good data-protection strategy before moving applications to production. Data protection ensures compliance, helps you recover from data corruption or accidental deletions, and protects against ransomware attacks.
GigaOm named Portworx the #1 Data Storage Platform for Kubernetes in the most comprehensive study of the industry to date. It also recognized Portworx PX-Backup as a leader in the GigaOm Radar for Kubernetes Data Protection.
Kubernetes Data Protection
Traditional data-protection methods don't apply to Kubernetes. Traditional backups are machine- or VM-centric. They require agents to support an application or database that are specific to the database that's being backed up. Traditional methods aren't capable of backing up the entire application.
Kubernetes backup needs to be aware of the entire application, including Kubernetes objects, namespaces, and configs. Also, Kubernetes allows you to dynamically scale your application to a much higher level than traditional applications. Kubernetes backup products should be capable of handling hundreds or thousands of objects and storage volumes. A traditional application, however, may only be able to handle tens of objects and storage volumes.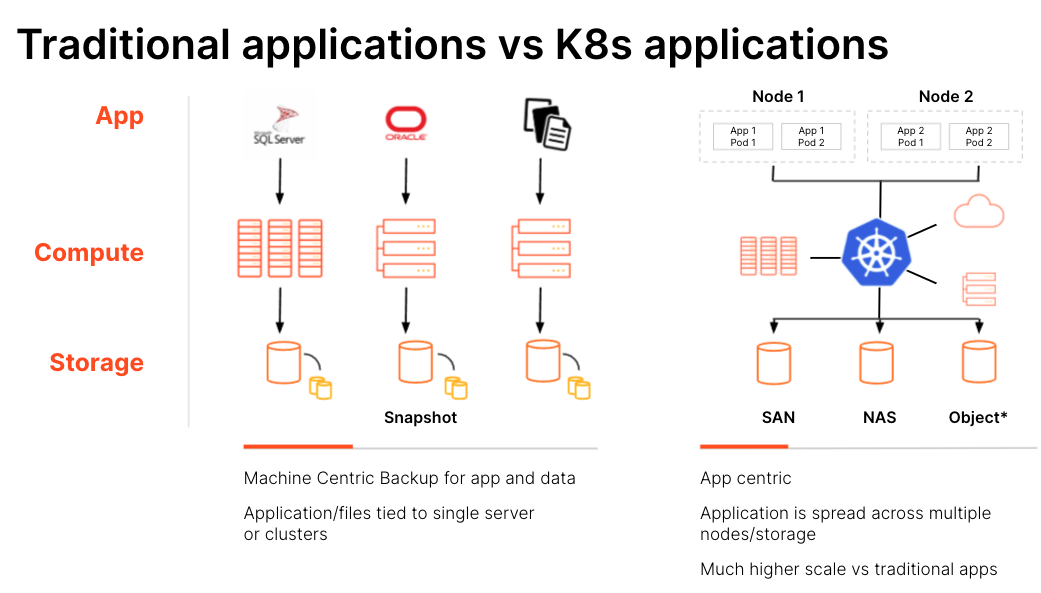 Figure 1.
PX-Backup is built with Kuberenetes in mind from the start. PX-Backup protects the entire containerized application plus all the related objects and the cluster. Key features of PX-Backup include:
Enterprise scale: The object and data sizes in Kubernetes are much larger than traditional workloads. PX-Backup is designed to handle containerized applications that scale to hundreds or thousands of objects.
Kubernetes application awareness: PX-Backup is container granular and namespace aware, which means you don't have to back up an entire VM. PX-Backup can back up applications and all the associated components, based on namespaces and labels.
Self-service: PX-Backup allows application owners to manage application SLAs and perform self-service backup and recovery with an intuitive UI or via CLIs.
Multicluster management: A single PX-Backup deployment can manage multiple clusters at scale. This reduces the infrastructure/installation overhead and significantly lowers the resource impact on each cluster that needs protection.
Benefits of PX-Backup in IBM Cloud Catalog
PX-Backup in IBM Cloud catalog is a fully integrated data-protection service that makes it seamless to protect applications running on IBM Cloud Kubernetes Service and RedHat OpenShift on IBM Cloud. Additional benefits include:
Automated deployment: PX-Backup integrates with IBM Cloud services and automates the initial installation. You can pick your Kubernetes cluster and all the necessary components will be installed for you.
Native backup for IBM Cloud: Leverage the intuitive self-service UI of PX-Backup to manage protection policies for all the applications that are running on the IBM IKS or RedHat OpenShift clusters.
Integrated billing: PX-Backup offers a pay-as-you-go subscription model for which you can track billing and metering directly in your account.
Get Started
PX-Backup is available as an app in the IBM Cloud catalog. Simply search for PX-Backup and start your subscription.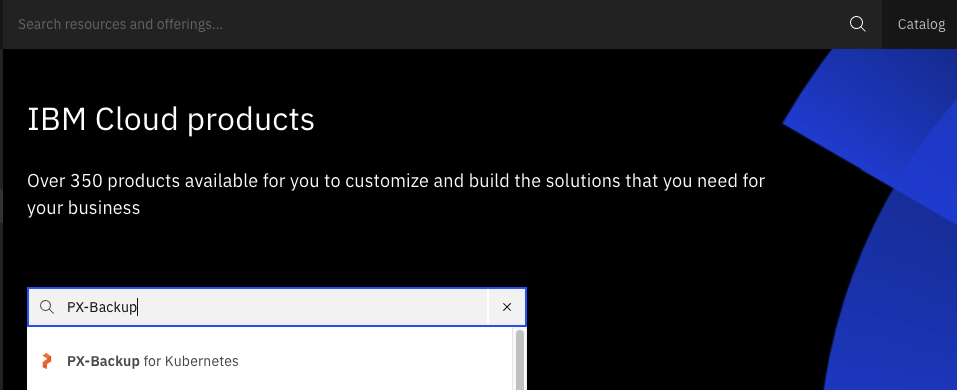 Figure 2. IBM Cloud catalog homepage.
Follow the steps as shown in Figure 3.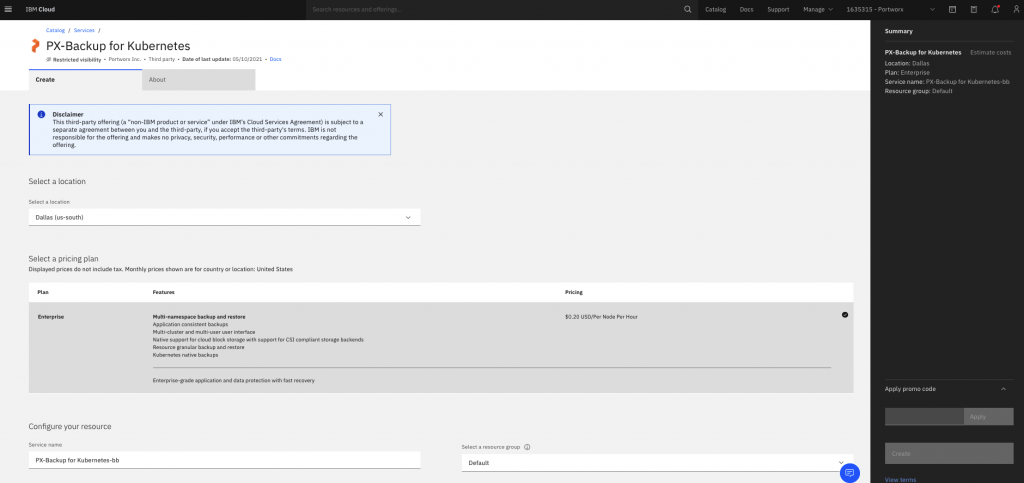 Figure 3. Sign up process for PX-Backup in the IBM Cloud catalog.
More Information
Portworx delivers a container-native software-defined storage solution with a variety of features to support stateful applications. To learn more, visit the following links:
Portworx Backup on IBM Cloud Kubernetes Service
Portworx Backup on Red Hat OpenShift on IBM Cloud
Portworx Backup Reference Docs
If you have questions, connect with us via the IBM Cloud Kubernetes Service Slack channel. Log in to Slack using your IBM ID and post your question in the #portworx-on-iks channel. If you don't use an IBM ID for your IBM Cloud account, request an invitation to join this Slack.
Share
Subscribe for Updates
About Us
Portworx is the leader in cloud native storage for containers.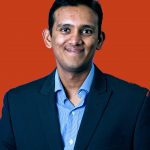 Prashant Jagannathan
Product Management, Portworx