April 30, 2018
PX-Enterprise 1.4 Brings Application Consistent Snapshots to Kubernetes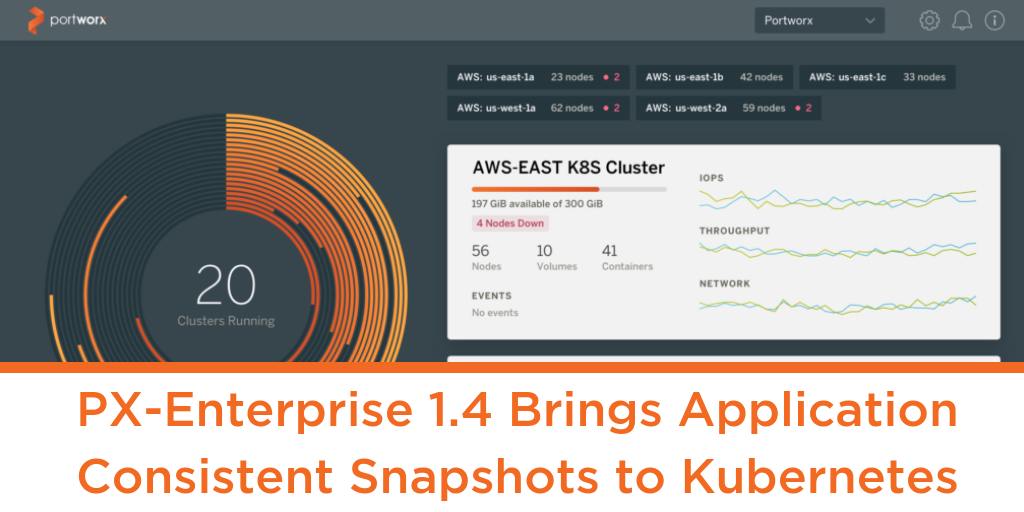 We're really excited to announce the most significant release of PX-Enterprise to date. When we started Portworx in 2014, it was extremely rare to find anyone running stateful apps in Docker containers. In fact, many were philosophically opposed to doing so. Fast forward to today and Portworx customers include some of the world's largest companies like GE, as well as some smaller, but just as innovative enterprises like NIO. As a result of their size and the criticality of the apps they run on containers, our customers have really been pushing the limits of what can be done with stateful containers. This release includes new features requested by some of the 15 Global Fortune 1000 that we are proud to serve. Two of the features we are most excited about are application consistent snapshots of a group of volumes, a feature we call 3DSnap™, and a brand new UI for PX-Enterprise focused on multi-cloud deployments.
3DSnap
3DSnap enables enterprises to group and snapshot their persistent data volumes as a single unit, in order to maintain an application-consistent backup of complex applications or a copy of complex data that can be used in end-to-end testing. This feature is useful in the case of scale-out databases that often have multiple data volumes for a single database. Likewise, applications such as WordPress require group snapshots because in order to restore a website to a particular point in time, files in a volume need to be snapshotted at the same time as a MySQL database. 3DSnap gets its name from the three dimensions represented by the snapshot: time, space (a particular server), and application. 3DSnap is initially available for MySQL and PostgreSQL, with other databases coming soon.
New PX-Enterprise User Interface
The PX-Enterprise User Interface has been redesigned from the ground up to include a sleek, user-friendly design and fast response times even for large container deployments. Now a customer can view and manage their PX-Enterprise clusters easily from their desktop, smartphone, or tablet, including a bird's-eye view of all of their clusters. Other new features designed for power users include a cloud topology-aware node map showing which servers are in which data center, powerful search capabilities, a time-machine like view of local snapshots and CloudSnap snapshots, and volume configuration management.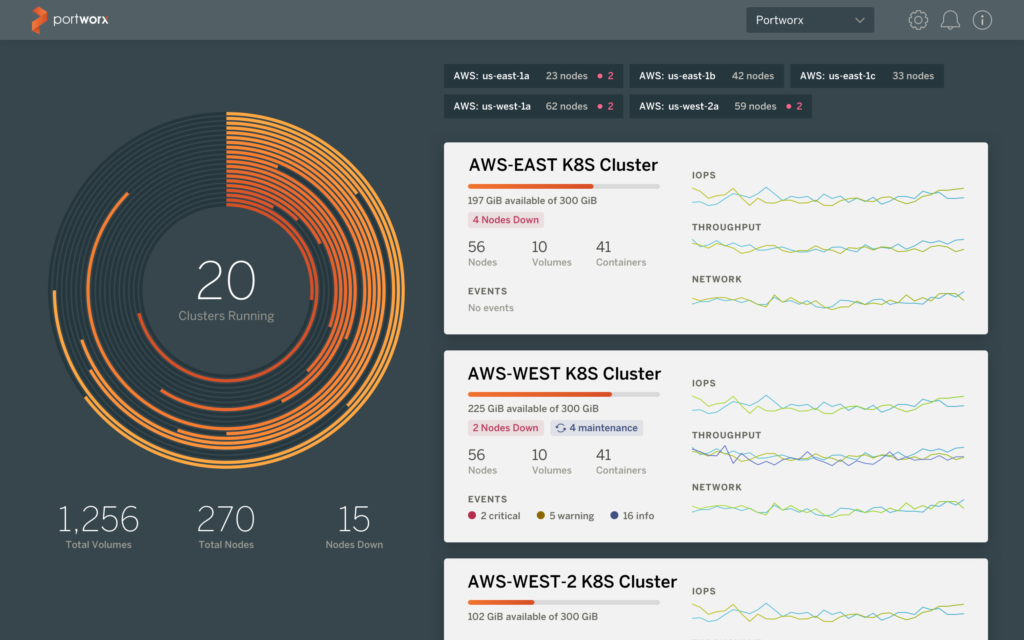 Some other exciting features in PX-Enterprise 1.4 include:
Kubernetes Per Volume Secrets: Per Volume Secrets enable enterprises to encrypt individual Kubernetes volumes with different keys, a requirement for many multi-tenant environments.
DC/OS Secrets Support: PX-Enterprise 1.4 also adds support for Mesosphere DC/OS Secrets so customers can store encryption keys in the secret store built-in to DC/OS instead of spinning up a separate service.
Google Cloud Auto Scaling Support for GKE (Google Kubernetes Engine): PX-Enterprise 1.4 enables fully automated management of Google Cloud disks by keeping track of which disks are attached to which GCP instance and automatically attaching them as the GKE cluster scales up.
CSI Tech Preview: PX-Enterprise 1.4 will have a Container Storage Interface (CSI) driver as a tech preview so customers can deploy their applications with Kubernetes 1.10 with volume provisioning through CSI. PX-Enterprise is the first cloud native storage software to support CSI natively.
License Transfer Functionality: With PX-Enterprise 1.4, customers can transfer a cluster license from one cluster to another cluster of the same size and capability so they can safely decommission an older cluster and migrate the workloads to a newer cluster.
To our customers who helped contribute to this release by providing use cases and requirements or by testing early versions, we'd like to say a sincere thank you! To everyone else, we hope you'll try it out and tell us what you think.