News & Commentary
When Portworx was founded over five years ago, our mission was to flip traditional enterprise storage on its head, focusing not on infrastructure, but on applications. At the time, this was very unorthodox and not everyone we spoke to agreed with us! But in order to realize our vision of a world in which businesses could win with data, we knew we had to make data as agile as containers were making apps. I'm excited to announce an important step in that journey today.
Portworx is being acquired by Pure, the IT pioneer that delivers storage as-a-service in a multi-cloud world, delivering a Modern Data Experience so organizations can run their operations as a true, automated, storage as-a-service seamlessly across multiple clouds. The Portworx team, including myself and both my co-founders, will be joining Pure to form a new business unit dedicated to enabling customers to accelerate their digital transformation. Our products enable customers to run any cloud native data service, in any cloud, using any Kubernetes platform, with built-in high availability, data protection, data security, and hybrid cloud mobility. We will be accelerating investment in the Portworx standalone roadmap retaining the ability to run Portworx on any storage infrastructure or cloud, while creating an integrated Pure and Portworx portfolio that works better together to deliver digital transformation.
Why is this the right time for this move? Simple. Because the time for containers, Kubernetes and multi-cloud is now.
According to 451 Research, 95% of new apps are developed in containers, and Gartner estimates that 85% of global businesses will be running containers in production by 2025, up from 35% in 2019. 78% of CNCF (Cloud Native Computing Foundation) members run Kubernetes in production today. And according to Gartner, 81% of enterprises work with 2+ cloud providers.
If an enterprise wants to run containerized applications across clouds using Kubernetes, they need the most complete Kubernetes data services platform on the market today. That's exactly what Pure and Portworx deliver. The market is accelerating, our efforts need to accelerate as well.
I've been a part of two previous acquisitions in my career, and I know a great cultural fit when I see one. Two standout values bind our teams together:
Customer First Values: Both of our teams put customer needs and the customer experience ahead of all else. You could say that we are obsessed with it. Pure has a certified customer satisfaction score in the top one percent of B2B companies. That is good company to keep! I'm confident that the Portworx customer-first obsession will only increase in our new home.
Product excellence: Portworx is the most used Kubernetes data services platform by the Global 2000 and the #1 Kubernetes storage platform according to GigaOm Research. Pure is one of the fastest-growing enterprise IT companies in history. Our products transform complex, stringent, and difficult storage and data workflows into an easy, compelling, even delightful, user experience. This is done via thoughtfully designed, superbly engineered products. Together our products bring unparalleled capabilities and ease of use that allow our customers to accelerate their digital transformation.
To our wonderful customers: I thank you for putting your trust in us and for continuing on this innovation journey with us. Your faith in us will be repaid many times over as we partner with Pure to further amplify our capabilities and allow you to continue your industry leadership in digital transformation of your company.
To our ecosystem of partners: You provide indispensable value to our company and our customers. You are part of this success and I look forward to continuing that work together as we expand the Kubernetes data services market together even faster.
To our employees: I offer a heartfelt thank you for your incredible skills, hard work and dedication. Please take a bow. Our success has your fingerprints all over it, and I look forward to our continued success together.
A special thanks to our stellar investors, Navin Chaddha from Mayfield, Jai Das and Anders Ranum from Sapphire, Mubadala and Amarjit Gill. You were the wind beneath our wings and helped us soar.
If the journey to success in business takes 1,000 steps, the startup phase is the first 250 steps. We ran up those steps to get where we are today, and with Pure we will now sprint the next 750 steps as we build on this success to define the next wave of the cloud journey.
Time to celebrate and onward to the future!
More resources:
More About Today's News from the Pure and Portworx Execs
Charlie Giancarlo, Pure Storage Chairman and CEO
Matt "Kix" Kixmoeller, Pure Storage, VP of Strategy
Gou Rao, Portworx Co-founder and CTO
Vinod Jayaraman, Portworx Co-founder and Chief Architect
Share
Subscribe for Updates
About Us
Portworx is the leader in cloud native storage for containers.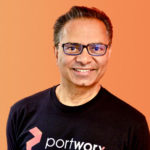 Murli Thirumale
Portworx | Co-Founder and CEO