October 1, 2020
Portworker to Puritan – A journey to liberate data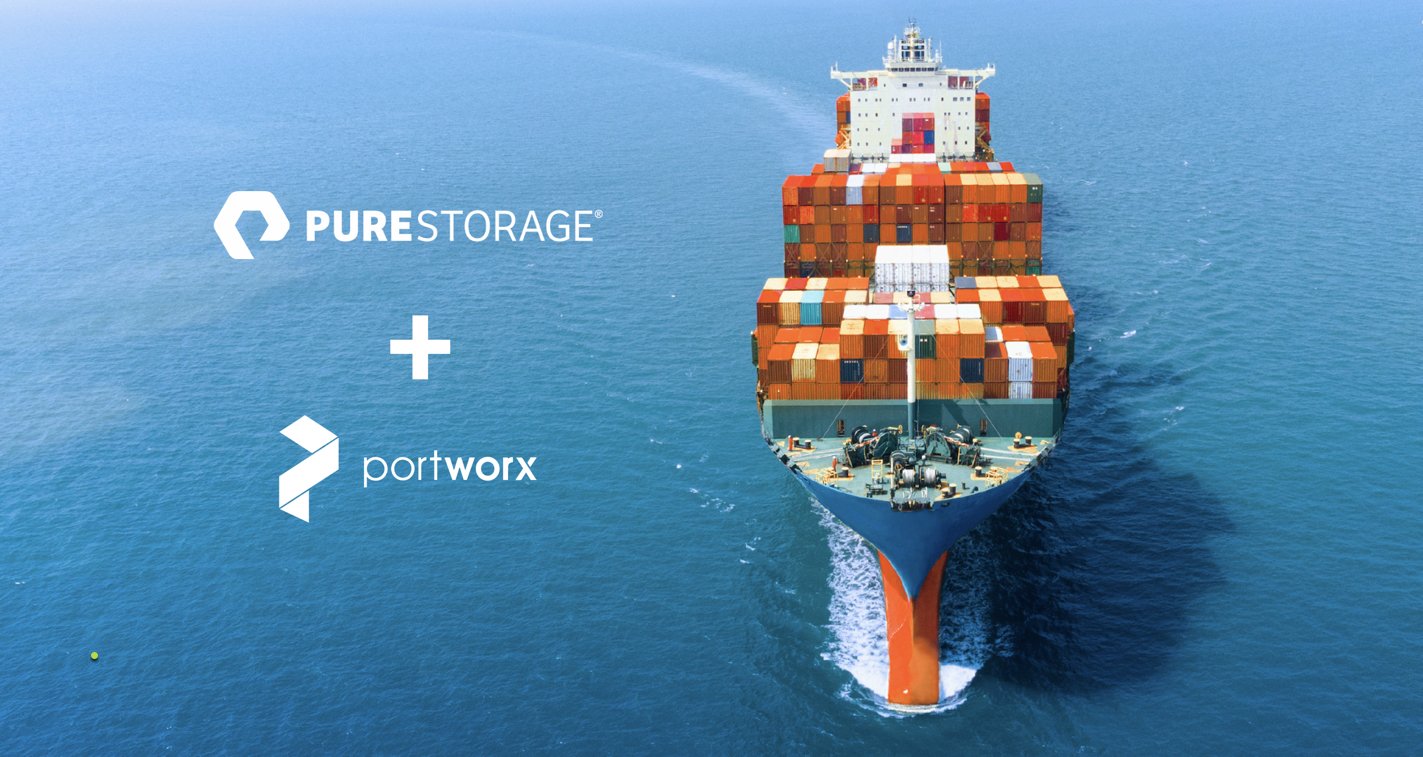 "See first, think later, then test. But always see first. Otherwise, you will only see what you were expecting."
― Douglas Adams
Life travels at the speed of light when you work at a startup—especially when you discover your startup's mission early on and find out that the solution you are building directly addresses major customer pains. And when that solution becomes a major piece of the next generation infrastructure revolution, it is not just a job anymore—it becomes your life's work.
That is the story of Portworx. We had seen customers struggle with tech designed for one use that didn't work when applied to another. For example, great new infrastructure trends like Kubernetes and Docker were held back by poor legacy stacks that didn't really hit the mark on delivering the automation and scale that Kubernetes demanded. So, just as Douglas Adams suggests, we got to see it first, and that made a huge difference. We took it as our mission to solve the fundamental challenges in scaling data infrastructure for modern orchestrators like Kubernetes with a simple and elegant user experience.
Early on, as we talked with customers, we realized almost all solutions tried to shoehorn their way into the world of containers and were betting on just being good enough to win customers. But what these solutions missed was that the users and customers who would run the Kubernetes-driven infrastructure were radically different from the traditional IT departments that they were previously catering to.
Kubernetes was liberating the application teams from the heavy shackles of slow-moving infrastructure. For many platform owners and users running Kubernetes—for the first time in their entire lifetime—they didn't have to file a ticket to get access to compute or storage. Everything they ever wanted was behind an API endpoint and could be delivered to them at the granularity of their choice when it came to compute. But what about data and the constructs that gave them access to data?
If data services cannot be consumed the same way and scale at the same levels as the apps that generate them, then no one could ever realize the true promise of Kubernetes. This is where the legacy stacks couldn't scale to deliver—and this what we heard loud and clear from our customers. We wanted to give customers unprecedented freedom to store and manage their data anywhere, eliminate infrastructure lock-ins, and automate most of their Day 2 workflows. We set out to build an easy-to-install, easy-to-scale, easy-to-operate, highly automated data management software that pretty much ran anywhere and handled any workload. More importantly, we wanted to build technology that works for real production applications, not just POCs.
Through this journey, we had the privilege to work with some of the most innovative customer teams who were pushing their organizations forward in their digital transformation initiatives. We also had the opportunity to jointly solve some of their Day 2 challenges and help them navigate through these challenges. We saw the Kubernetes ecosystem evolve rapidly, as Global 2000 customers started adopting Kubernetes as their choice of orchestrator and started building their new apps or migrated their existing apps to it. We saw the pressing need for several important data management capabilities unfold for these customers as they went live with their apps and workloads. And we decided to take on the challenge of delivering a single-click data management and services platform to these customers that would enable them to realize the true potential of Kubernetes. At the heart of all these efforts was our deep commitment to making our customers' lives easy and to see their Kubernetes efforts be successful. The market took distinct steps to evolve, as evidenced by the chart below, and we matched that with compelling offerings every time. And as Kubernetes takes center stage, there are only greater opportunities to come.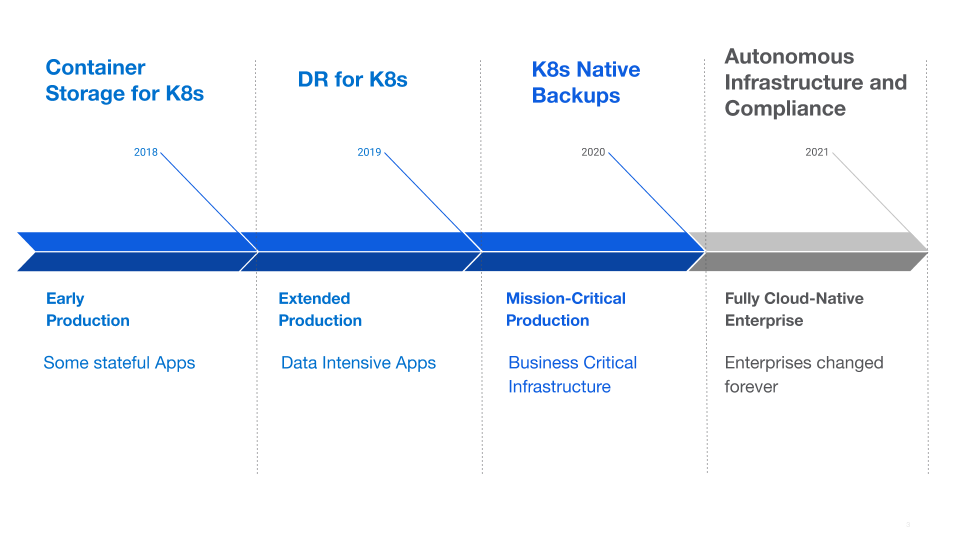 And now we fast forward to 2020, to a world that looks very different than we ever imagined it would be. Today, in this post-COVID world, most comforts of life are being made possible through the heavy use of technology and the delivery of services through cloud computing. Kubernetes is becoming the cloud and application orchestrator of choice. Portworx is at the forefront of automating storage and data management workflows for Kubernetes and the cloud.
Some of the world's largest enterprises run Portworx at the heart of their Kubernetes infrastructure. Today, Kubernetes with Portworx powers tech that helps a large telecom company run a large scale PaaS cloud that helps their team build next generation digital apps, bring new phones to market, and run and update their store catalogs at a much faster pace. A large automobile maker runs their internal digital modernization efforts on Openshift and Portworx; a large ISP and cable customer runs all of their set-top box analytics on Portworx and Kubernetes. A leading drug maker is leveraging Portworx to run their internal digital apps. A leading geo-spatial mapping and analytics company runs all their Kubernetes infrastructure on Azure AKS powered by Portworx, and a federal mortgage services provider runs all of their digital apps on Amazon EKS. A large grocery chain runs all their search and natural language processing on Google GKE and Portworx, and other Global 2000 enterprises are building their modern app infrastructure with different flavors of Kubernetes and Portworx. In the dynamic, high-paced world of Kubernetes-driven infrastructure, Portworx is the de facto data management platform for Kubernetes. I am happy to say, we, along with our fabulous team, have built the most comprehensive data management and services platform for Kubernetes— ready for the multi-cloud world.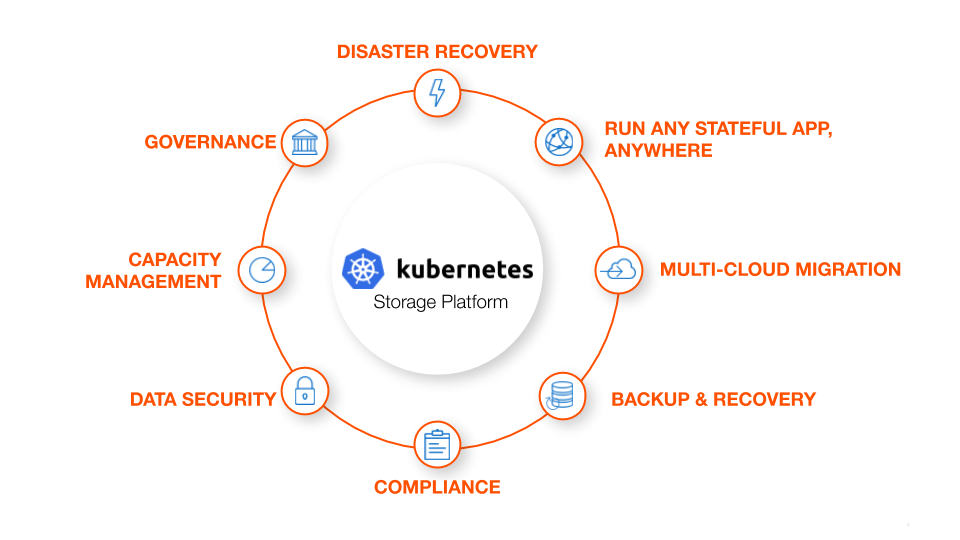 These results didn't happen overnight or by sheer happenstance or coincidence. We have been intensely focused on delivering the best customer experience with our products and with our support. We have learned tremendously from customer deployments and have been honest with ourselves and our customers on where we need to make our product and services better—and we have delivered time and again on those commitments. And with a little bit of luck and the right timing when the market matured, we realized our dream of enabling and liberating customers from the shackles of the legacy stacks and infrastructure. Today, a Portworx customer can run their apps and workloads reliably anywhere, move their apps to any cloud or any datacenter with a few clicks or commands, and not be locked into any of their current providers. We untethered the data, defeated the gravity that comes with it, and liberated it to elevate it to find a higher purpose.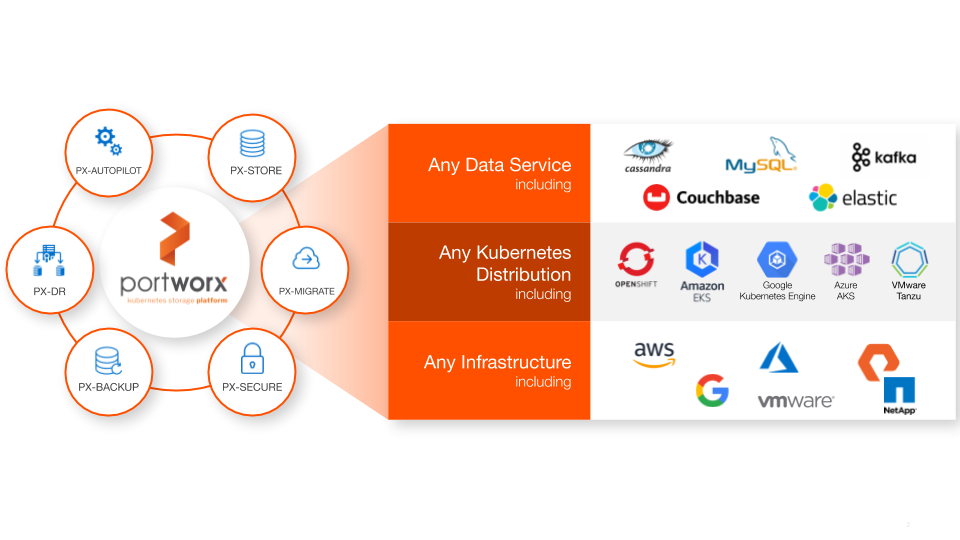 But we are not done yet. While we have solved some major challenges around data management for apps at scale in Kubernetes on any infrastructure, customers are still struggling with other areas of the infrastructure, trying to cobble together disparate pieces of software and services that may or may not work well together. Customers are left to tinker with various infrastructure pieces—when all they want is to build and ship apps to their customers. Customers need infrastructure that bends to the needs of their apps and not the other way around. They need to be able to consume these services through an API endpoint, through a browser, or through a CLI but have the flexibility of owning and running that infrastructure anywhere they want. This is where our combined journey with Pure gets exciting. With Portworx's app-aware technology stack and Pure's phenomenal data storage platforms if a customer wants to use that, we can together deliver an app-to-flash integrated experience that simplifies user experience, eliminates infrastructure management and bottlenecks, and lets customers focus on what they do best— build apps of the future! From helping customers defeat data gravity to delivering them Pure bliss (pun intended), we can't wait to see what the future holds for our joint teams!
Go Portworx (by Pure Storage)!