Featured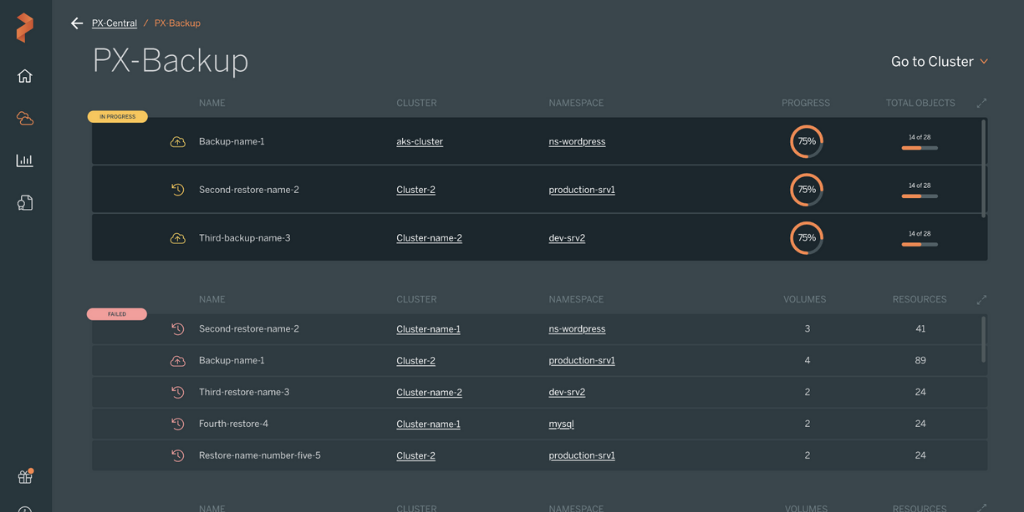 Today, we're very excited to announce the general availability of our latest product, PX-Backup. PX-Backup allows you to backup and restore all your Kubernetes applications with a single click, providing robust data protection CIOs require with the ease-of-use that DevOps engineers demand. Portworx was recently honored to be ranked as the #1 data storage platform for Kubernetes by GigaOm in large part because our storage and data management platform is used in production by some of the world's largest Kubernetes users, including those at Comcast, T-Mobile, Kroger, Ford, and many more.
Portworx Enterprise has become the industry standard for running mission-critical production workloads in Kubernetes at scale on any cloud or on-premises datacenter. Today, Portworx Enterprise is deployed in production in a wide range of industry verticals from global financial corporations, retail, manufacturing, pharmaceuticals, major automakers, and some of the largest telcos and ISPs.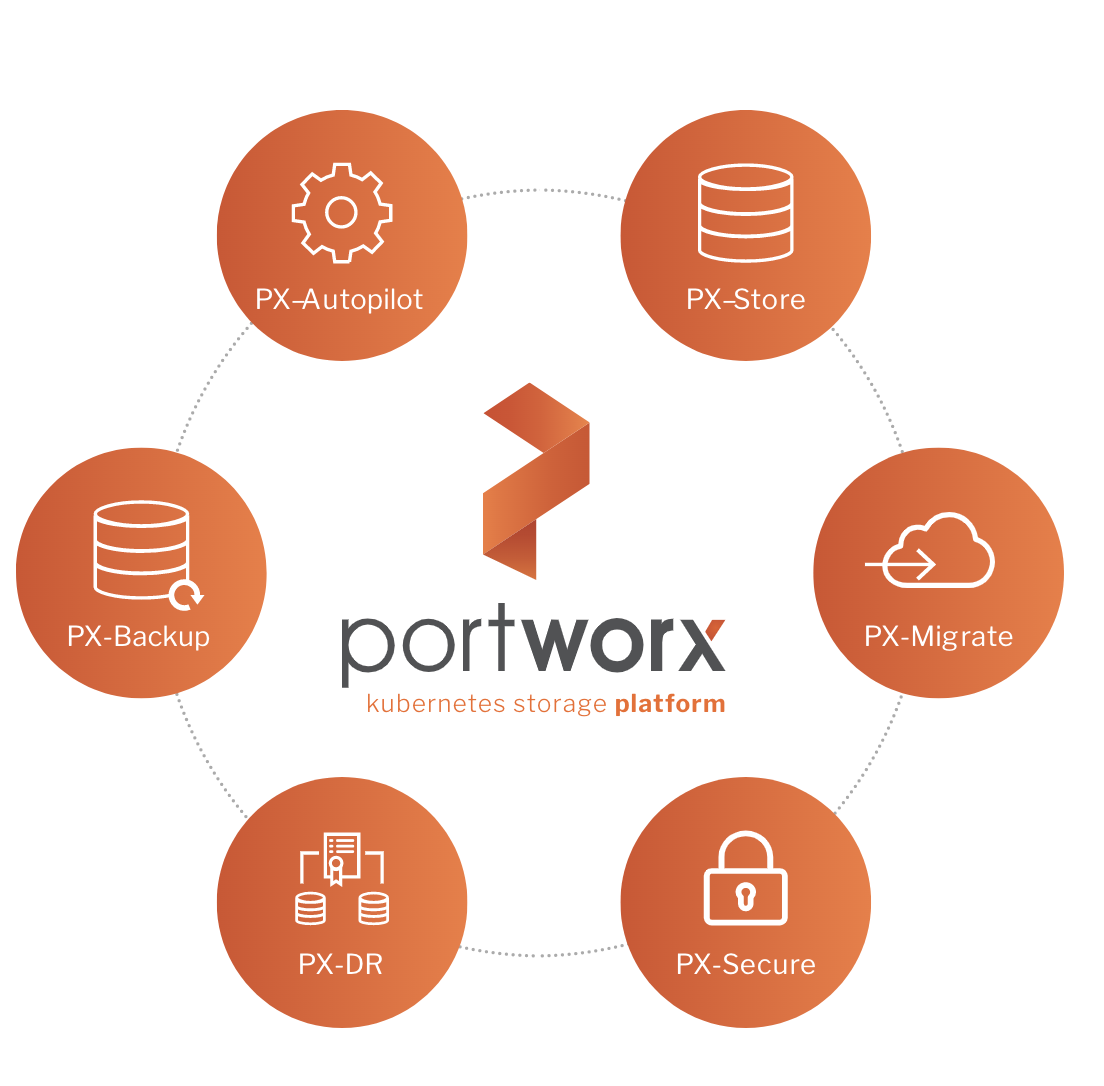 Working closely with these customers to build large-scale Kubernetes deployments that must always be available, performant, and secure, we learned that Kubernetes applications are poorly served by the existing enterprise backup solutions. Traditional backup and recovery solutions don't fit with Kubernetes for three reasons:
They are focused on machines, but Kubernetes is all about applications.
They assume that the infrastructure where an application is backed up from and where it will be recovered to are the same, but Kubernetes apps are often backed up and restored across clouds and data centers.
They are centrally administered, but Kubernetes is all about self-service.
Knowing that our customers cannot sacrifice data protection for their Kubernetes applications, we decided to build the backup solution that Kubernetes users deserve. Built from the ground up for Kubernetes, PX-Backup delivers enterprise-grade application and data protection with fast recovery at the click of a button. PX-Backup—together with PX-Migrate and PX-DR—completes the application data management and data protection experience that enterprises require when they run mission-critical applications on Kubernetes in production.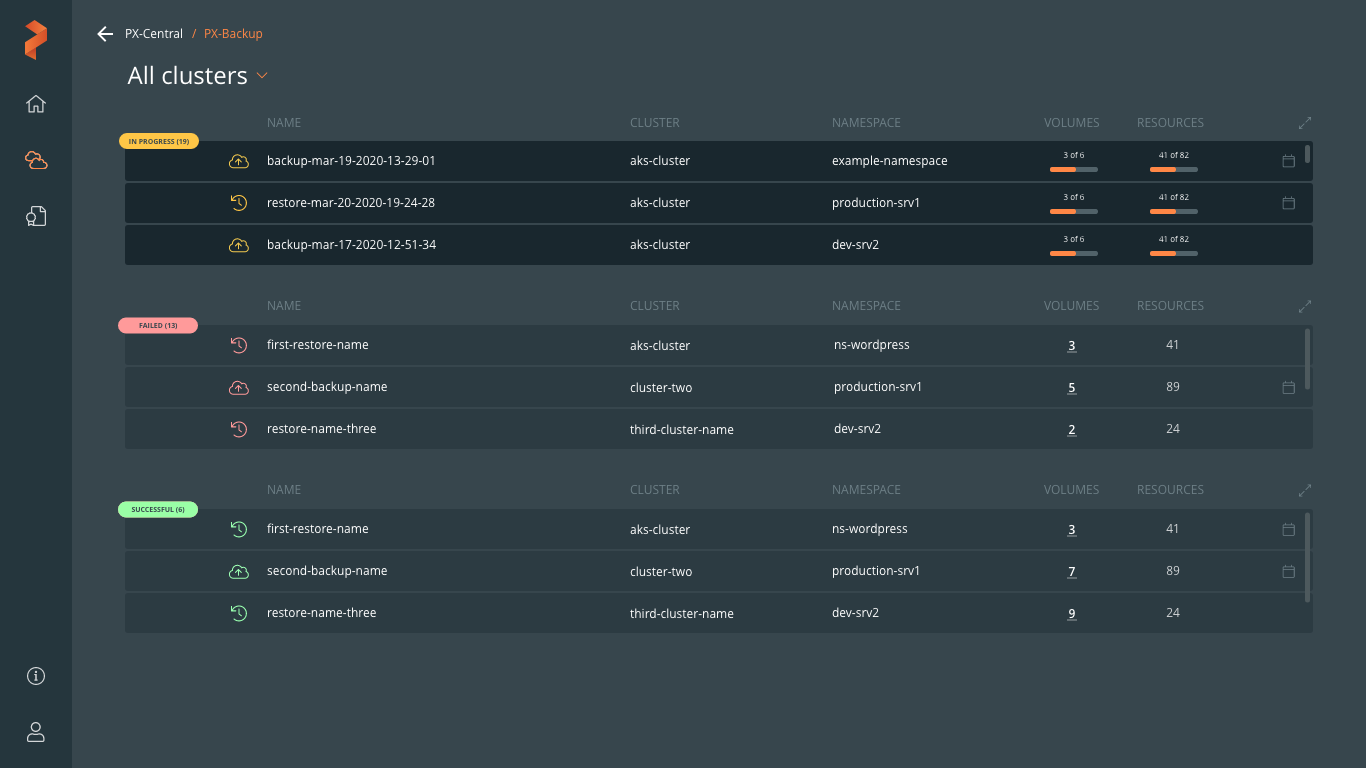 PX-Backup includes:
Point-and-click recovery for any Kubernetes app—stateless or stateful
Fast recovery for applications, including restoring their configuration and data
Pod, tag, and namespace granularity for any backup
Policy-driven scheduled backups
Continuous backups across multiple clouds and global data centers
Complete protection for applications, configurations, and data
Application-consistent backup and restore
Backup and recover cloud volumes from Amazon, Microsoft, and Google, even if you are not using PX-Store
Built-in multi-tenancy for enterprises via industry-standard OIDC integration
And much more…
What you can do with PX-Backup
Kubernetes has enabled five key pillars of efficiency for enterprise applications: multi-tenancy, self-service, automation, agility, and control. Portworx has built these concepts into our own platform, and PX-Backup is a great example of these principles in action.
The importance of self-service
In particular, the self-service element for Kubernetes backup is essential because Kubernetes removes central IT control over the application lifecycle, but applications must continue to be backed up in accordance with a variety of compliance and governance concerns. PX-Backup solves this conundrum by enabling IT to grant access to the right people who can then take on the appropriate responsibility to back up, restore, and migrate their own applications. In other words, PX-Backup was designed to let the users perform backups/restores of their apps or namespaces as long as they are in compliance with the organizational policies and have the right levels of access privileges.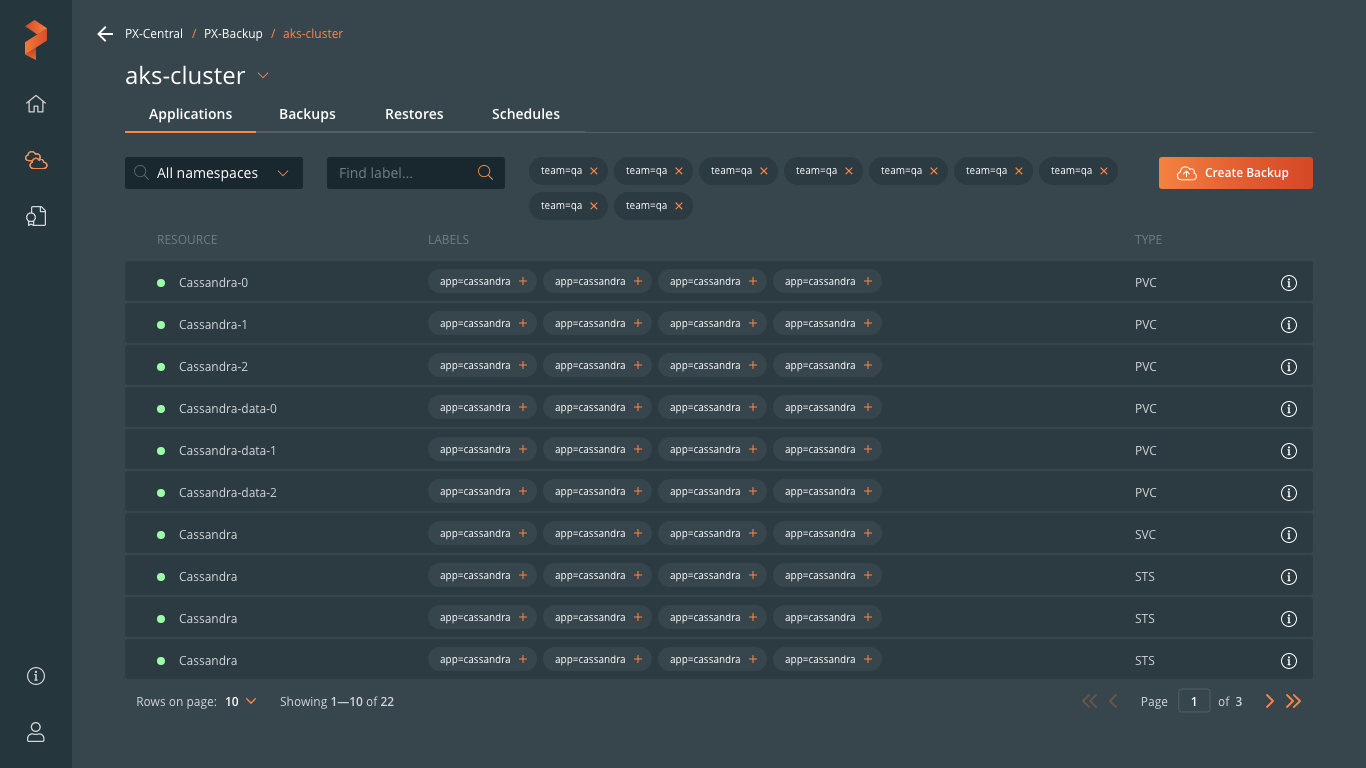 Built-in flexibility for Kubernetes backups
Serving a wide variety of enterprises in industries all the way from highly-regulated financial services to hyper-growth gaming, we saw first hand the breadth of use cases for Kubernetes backups. Within each organization, there is a mix of stateful and stateless applications, and some are deployed on-premise, some in the cloud, and some in hybrid environments.
Regardless of the type of application and deployment location, application availability and data protection are essential. Unfortunately, because traditional backup solutions focus on machines, not apps, restoring a single Kubernetes application or all the applications in a namespace are out of reach.
With PX-Backup, customers can backup and restore any Kubernetes application—including its data and all associated Kubernetes objects—at a pod, tag, or namespace level of granularity and restore it easily to any cloud or on-premises data center with the click of a button. These powerful backup and restore capabilities enable high levels of application and data mobility across different clouds from day one.
Users can configure the cloud credentials and backup locations as shown below.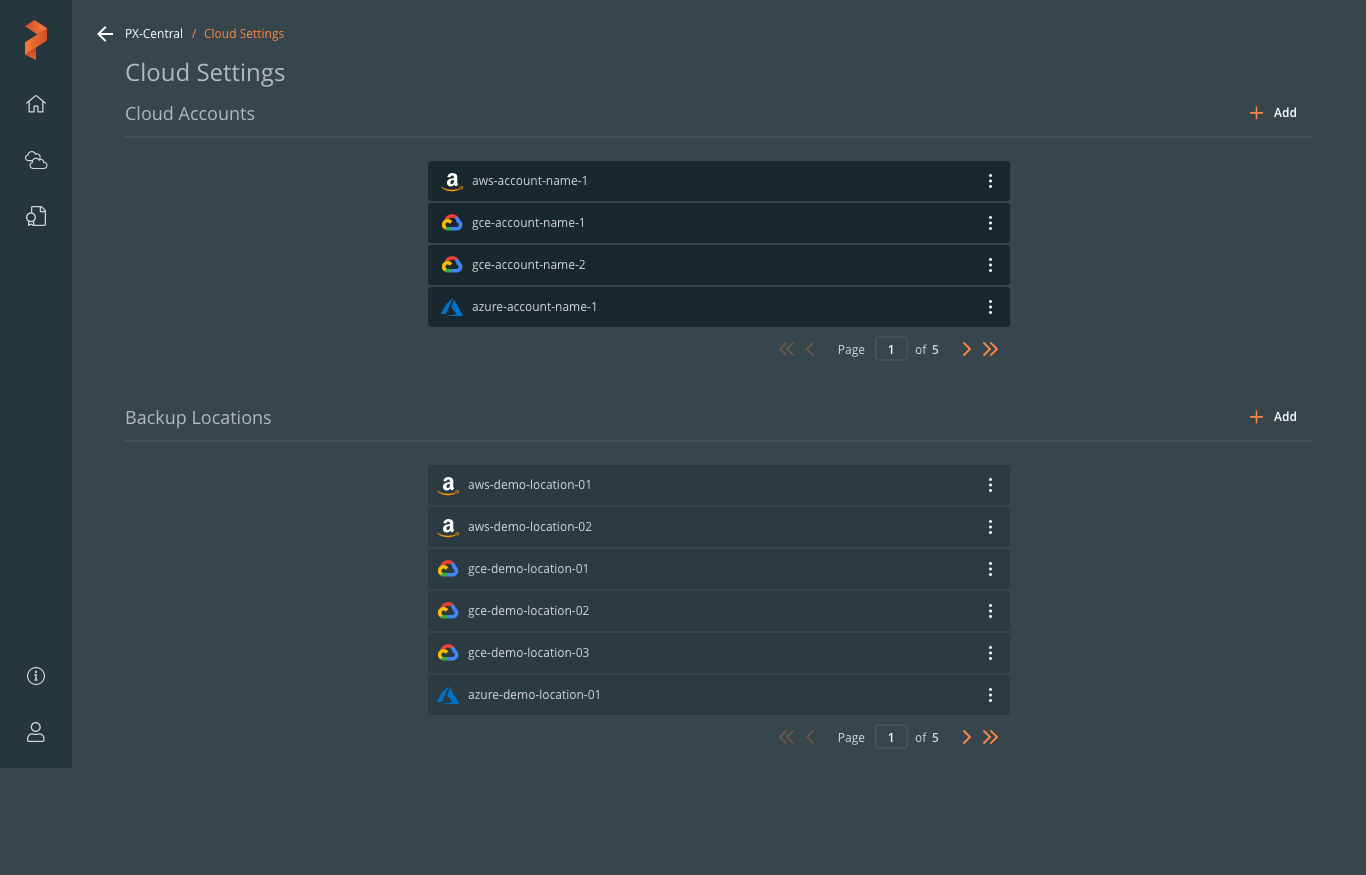 Once the source and target locations have been established, users can specify the granularity and frequency with which they wish to take backups. One user may require some applications within their namespace to be backed up more frequently than others. Another user may find that they have taken a backup of an entire cluster but only needs to recover a single namespace. Using label selectors in PX-Backup, users can backup specific applications or pods and put them on separate custom schedules to solve this problem. Restores also allow for specific namespace selection and can be configured to create new resources or replace existing resources on the destination cluster.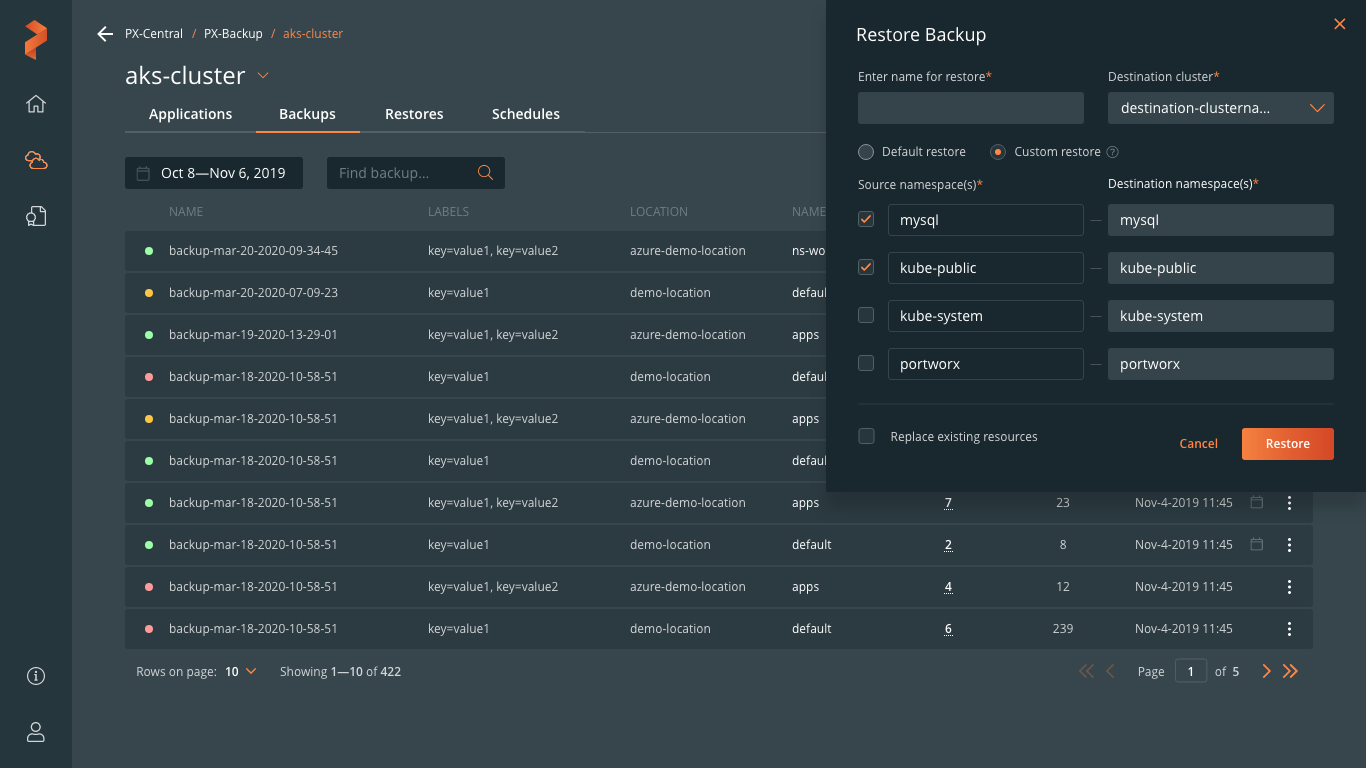 Application consistent backups for distributed databases
It is common to run distributed applications on Kubernetes, and these apps are often backed by a distributed database like Cassandra, Kafka, Elasticsearch, or MongoDB. In order to capture an application consistent backup of these services, the database application itself must be quiesced prior to the backup. For example, Cassandra users may want to flush the tables from memtables prior to backup. This can be configured using rules in PX-Backup. By selecting the pods using label selectors and configuring specific pre- or post-execution action, users can tailor their backups specific to the application.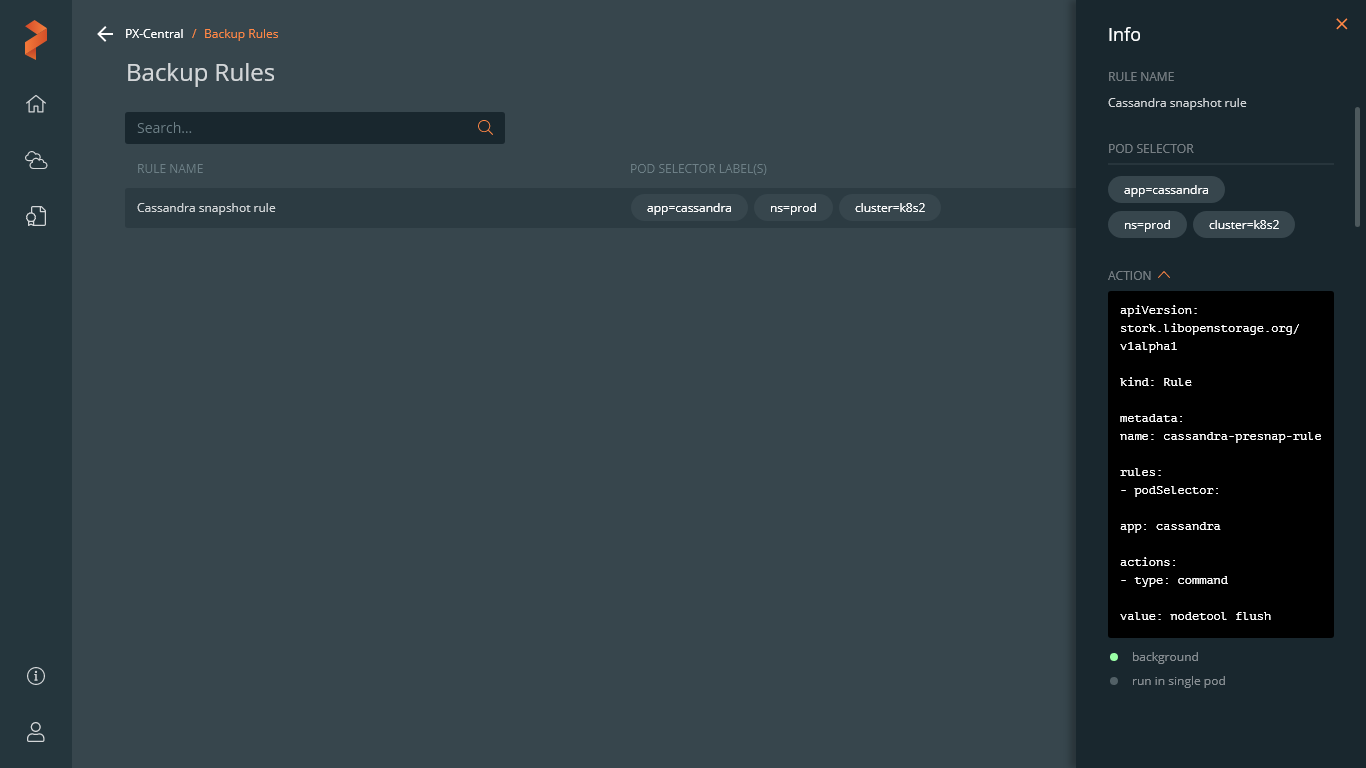 Prior to the release of PX-Backup, Portworx supported cluster backup and restore, and we also support Velero as a community plugin. But our customers demanded an enterprise-grade backup solution that goes well beyond current offerings to provide RBAC, multi-tenancy, policy-driven automation, and high levels of application data protection and mobility. PX-Backup delivers this with a simple and intuitive experience that is container granular, application consistent, namespace aware and, multi-cloud ready.
You can get started with PX-Backup today with a 30-day free trial license for your organization. We will be hosting a webinar to talk about PX-Backup, showing a demo, and answering any questions you may have. For any additional questions and feedback, please contact us.
Share
Subscribe for Updates
About Us
Portworx is the leader in cloud native storage for containers.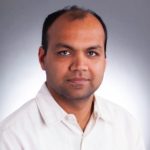 Prashant Rathi
Portworx | Director of Product Management