ON-DEMAND WEBINAR
Uncomplicate Data on Kubernetes: Part 1
Kubernetes is a powerful automation engine for your apps but it is complex. In fact, most DevOps teams spend a major portion of their time firefighting deployments and operations, instead of delivering new features customers want. That is a lost opportunity to outpace your competition.
Fill out the form to watch the webinar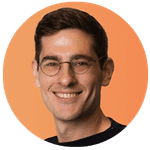 Michael Ferranti
Senior Director, Product Marketing at Pure Storage
In this webinar you will learn:
The root of the data challenges that have your teams fighting against Kubernetes
How automation allows you to solve for data requirements like HA, encryption, backup, DR, and data migration for any app running on Kubernetes
How you can easily build a 1-click app catalog providing developers with managed SQL & NoSQL, search, streaming, AI/ML and other data services
Portworx, who GigaOm Research calls "the gold standard" of enterprise Kubernetes storage platforms, helps you change all that. With Portworx, your teams can leverage a data management platform that solves HA, backup and DR, data security, migrations and more, without hiring an army. You can deliver more apps, more quickly and reduce the complexity that comes from running modern, microservice-based applications.
Pure Storage uses the personal data you submit (including name, phone, email, company, job title, location in the form) to provide you with relevant information and help process any orders you may place through Pure or our partners. By clicking register you agree to sharing of this personal data with Pure Storage and our partners and related third parties. You have the right to request deletion of your personal data, and the right to opt-out of sale of your personal data.
Privacy Statement
.