On Demand Webinar
Architecting a complete data protection and portability solution with Portworx
Recorded on March 15,2022
Sign up to watch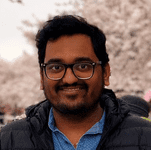 Bhavin Shah
Technical Marketing Manager - Portworx by Pure Storage
Modern applications running on Kubernetes rely on scale out file systems for their storage needs. Whether these file systems are cloud based (like AWS EFS) or on-prem (like Pure FlashBlade), backup admins need to pair them with a Kubernetes- specific data protection solution. Join us for this monthly technical demo to see how PX-Backup equips you to effectively protect and migrate business critical applications.
Together, we will cover:
How to protect your applications running on Amazon EKS that leverage Amazon EFS
How to migrate applications running in Google Cloud to Amazon EKS, illustrating cloud to cloud data portability
Pure Storage uses the personal data you submit (including name, phone, email, company, job title,
location in the form) to provide you with relevant information and help process any orders you may place through Pure or our
partners. By clicking register you agree to sharing of this personal data with Pure Storage and our partners and related
third parties. You have the right to request deletion of your personal data, and the right to opt-out of sale of your
personal data.
Privacy Statement
.