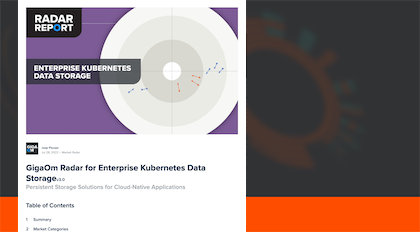 These enterprise storage solutions support Kubernetes workloads in addition to bare metal and virtualized environments.  Portworx is the leading storage that supports containers at scale, particularly in multi-cloud use cases.
In the words of GigaOM analyst Joep Piscaer, "Portworx is a complete enterprise-grade solution with outstanding data management capabilities, unmatched deployment possibilities, and superior management features." 
Download the 2023 GigaOm Radar for Enterprise Kubernetes Data Storage to see why Portworx has been a leader for Kubernetes Storage for 4 years in a row. 
The ability to run on any Kubernetes distribution, cloud, or storage supporting any containerized application
Elastic scaling, storage-aware class-of-service, automation and multiple failover options
Industry leading database and data services support that simplifies the deployment and management of 12 leading services
Maximized data reduction capabilities and data efficiency for Pure Storage customers