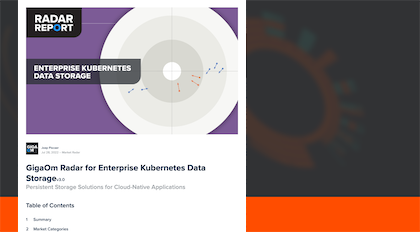 This report focuses on persistent enterprise storage solutions for Kubernetes. These enterprise storage solutions that support Kubernetes workloads in addition to bare metal and virtualized environments.
Download this report to learn:
Portworx modernizes the underlying FlashArray/FlashBlade storage infrastructure, offering one complete solution for addressing the data needs of both Kubernetes and non-Kubernetes applications.
The combination of best-in-class, enterprise-grade storage infrastructure and Kubernetes data platform provides the most complete data-services platform for building, automating, protecting, and securing all applications—both traditional and cloud-native.
Additionally, the single vendor support from Portworx by Pure Storage addresses the operational complexities of data management across all types of applications. Pure Storage uses its cloud-native storage solution, Portworx, to unlock Kubernetes support for its enterprise storage products, FlashArray and FlashBlade.