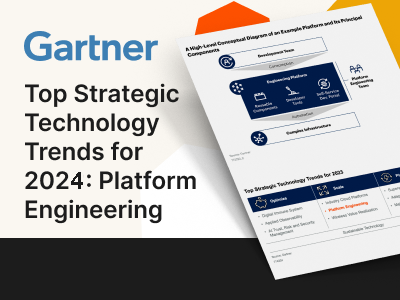 According to Gartner, "Platform engineering efforts have begun to yield tangible benefits at many large organizations, and several prominent companies have discussed their successes publicly."[SB1]
This trends report provides straightforward instructions that organizations can use as a blueprint for building an agile data platform that boosts app development speed. Portworx believes that this trends report dives into the following analyst recommendations:
Your first attempts at developing an platform should be focused on an internal developer platform (IDP). IDPs are currently the most established and comprehended forms of platforms.
Any platform employed by your team should enhance productivity across the organization and should be better than an open-source project that can be pieced together.
Decreasing the mental load for platform and developer teams should be a key priority as you design and implement an IDP.
With a well-implemented internal developer platform (IDP), data can be centrally managed and accessed from any application or region with minimal effort.
Portworx is the cloud-native storage software that paves the way for any effective internal developer platform.
[SB1] Gartner, Top Strategic Technology Trends for 2024: Platform Engineering, Bill Blosen, Paul Delory, 16 October 2023.
GARTNER is a registered trademark and service mark of Gartner, Inc. and/or its affiliates in the U.S. and internationally and is used herein with permission. All rights reserved.