September 8, 2021
AWS EKS-Anywhere General Availability and Portworx by Pure Storage – Build Your Cloud On Your Terms!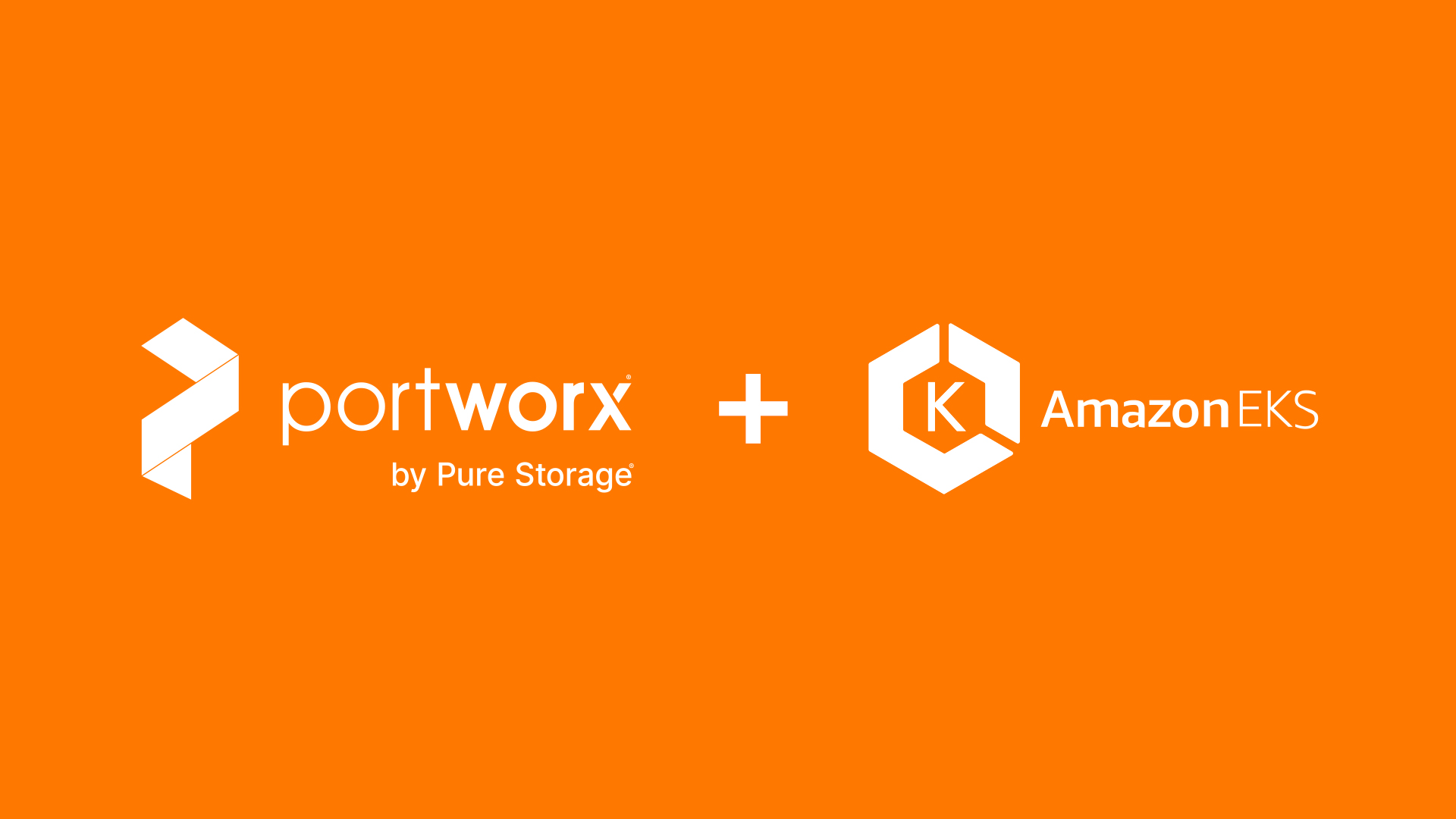 At Re:Invent 2020 AWS announced their work on EKS-Anywhere, an easily deployable, run-anywhere version of Kubernetes based on years of experience managing secure, large-scale deployments on the AWS Cloud platform. Today marks the General Availability of EKS-Anywhere and Portworx by Pure Storage is proud to stand beside AWS as a Launch Partner, ready to provide feature-rich enterprise grade data services to this new flavor of AWS's Elastic Kubernetes Service.
With EKS-Anywhere, AWS has introduced a fast, repeatable way to deploy their battle-tested Kubernetes platform almost anywhere. Customers can now provide their organizations with the same secure and reliable container orchestration they have come to rely on in the cloud in their own data centers or at the edge. As a Launch Partner, Portworx is here to help extend this vision of a common computing platform by providing a secure and highly available storage layer with consistent management across all versions of EKS.
By leveraging Portworx with EKS-A, customers now have a proven path to accelerate their hybrid cloud strategies. As the industry leading Kubernetes Data Platform, Portworx and AWS customers can seamlessly extend their AWS Cloud EKS infrastructure into their own data centers while utilizing the IT assets they have already invested in. Once deployed, EKS-A becomes the orchestration layer for a customer's compute resources. But what about the application data?
Kubernetes has become synonymous with application portability – develop it once and run it on any Kubernetes distribution. While addressing application portability, Kubernetes has largely left data management in the hands of the hardware or platform vendors. While most vendors, including AWS, have taken the approach of leveraging the CSI standard in a connector model, Portworx was built from the ground up for containers and not only adheres and contributes to CSI, but extends the data management capabilities far beyond what is available today.
Portworx solves these data management challenges by implementing a Container Native Storage layer, abstracting the underlying infrastructure from the data feeding an ever-growing container environment. This abstraction makes the data as portable as the applications and opens the way to realizing a highly-available, performant and secure data-plane. Stork, our storage-aware orchestrator for Kubernetes, makes Portworx application aware, and provides the ability to capture not only the data, but all the Kubernetes objects that compose your applications. Through this holistic understanding of the application environment, Portworx provides the same enterprise class data services to containerized workloads that have become table-stakes in IT shops for decades.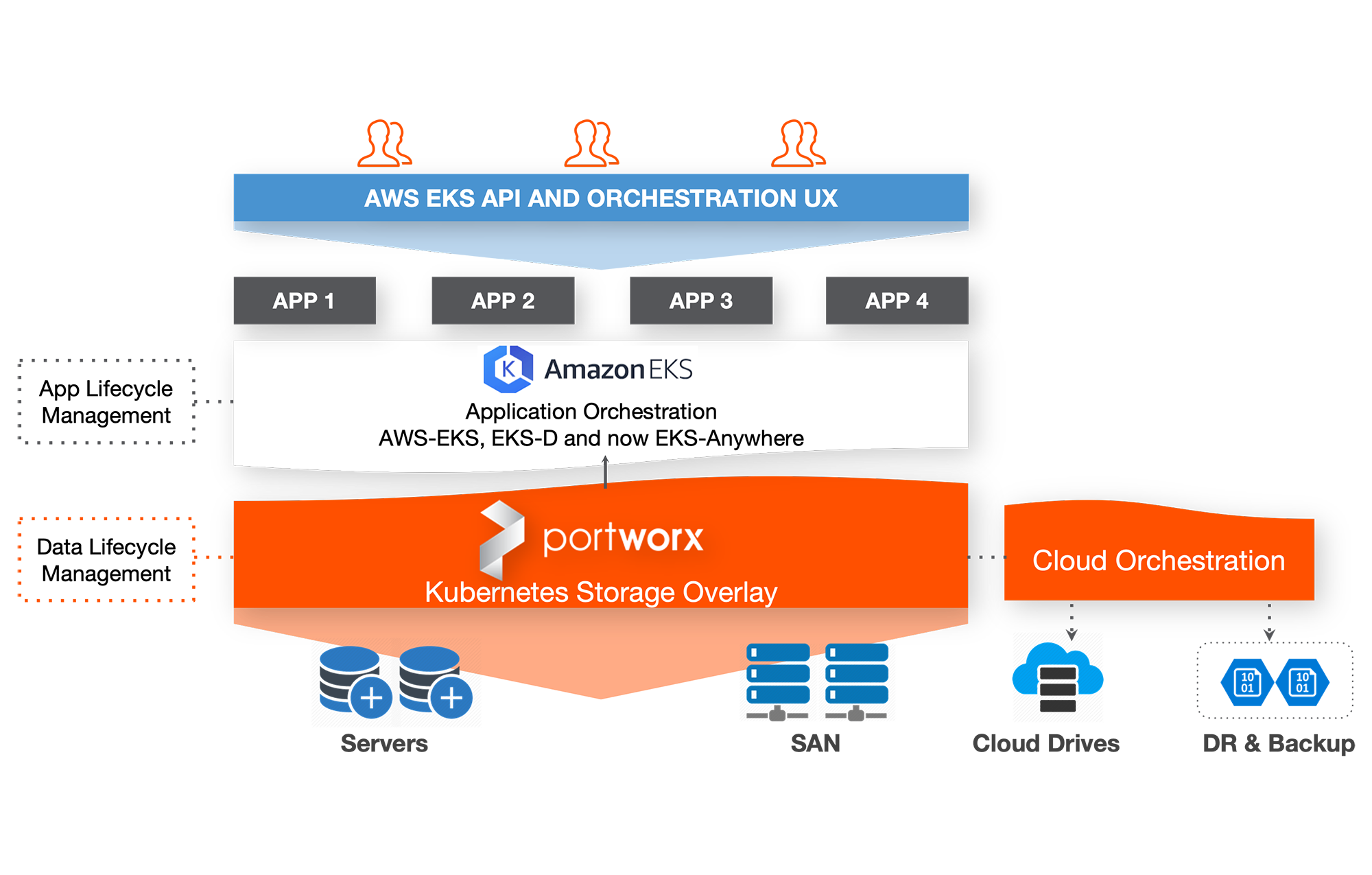 Portworx complements EKS-A with a highly-available container data platform that is topology aware and highly scalable, not only for compute resources, but storage resources as well. You can simplify storage provisioning in your container environment through Kubernetes native manifests and Portworx takes it to the next level. Utilizing advanced capabilities, like in-cluster replication, Portworx ensures your data is always available, even if the host running an application dies. Portworx maintains additional copies on other hosts in the cluster and informs the EKS-A scheduler of failures, proactively bringing your applications back online along-side the replicated data. This ensures your applications remain performant throughout their lifecycle.
Additionally, re-think your Disaster Recovery planning and Business Continuity strategy with Portworx by pairing two or more Portworx enabled EKS clusters and utilize this same replication capability to maintain a warm copy in a secondary EKS-A deployment or in the AWS Cloud on EKS or EKS-D. Portworx keeps your applications in sync, not only the data, but the entire application, including the necessary Kubernetes objects that tie everything together. This ensures application consistency across sites. Depending on the distance between your locations, this can provide as low as zero RPO and RTO measured in minutes instead of hours or days. For longer distances, enable Async-DR and replicate your data as often as every 5 minutes for a RPO measured in just minutes. Quickly implement a Business Continuity strategy for your container environment by leveraging Portworx DR.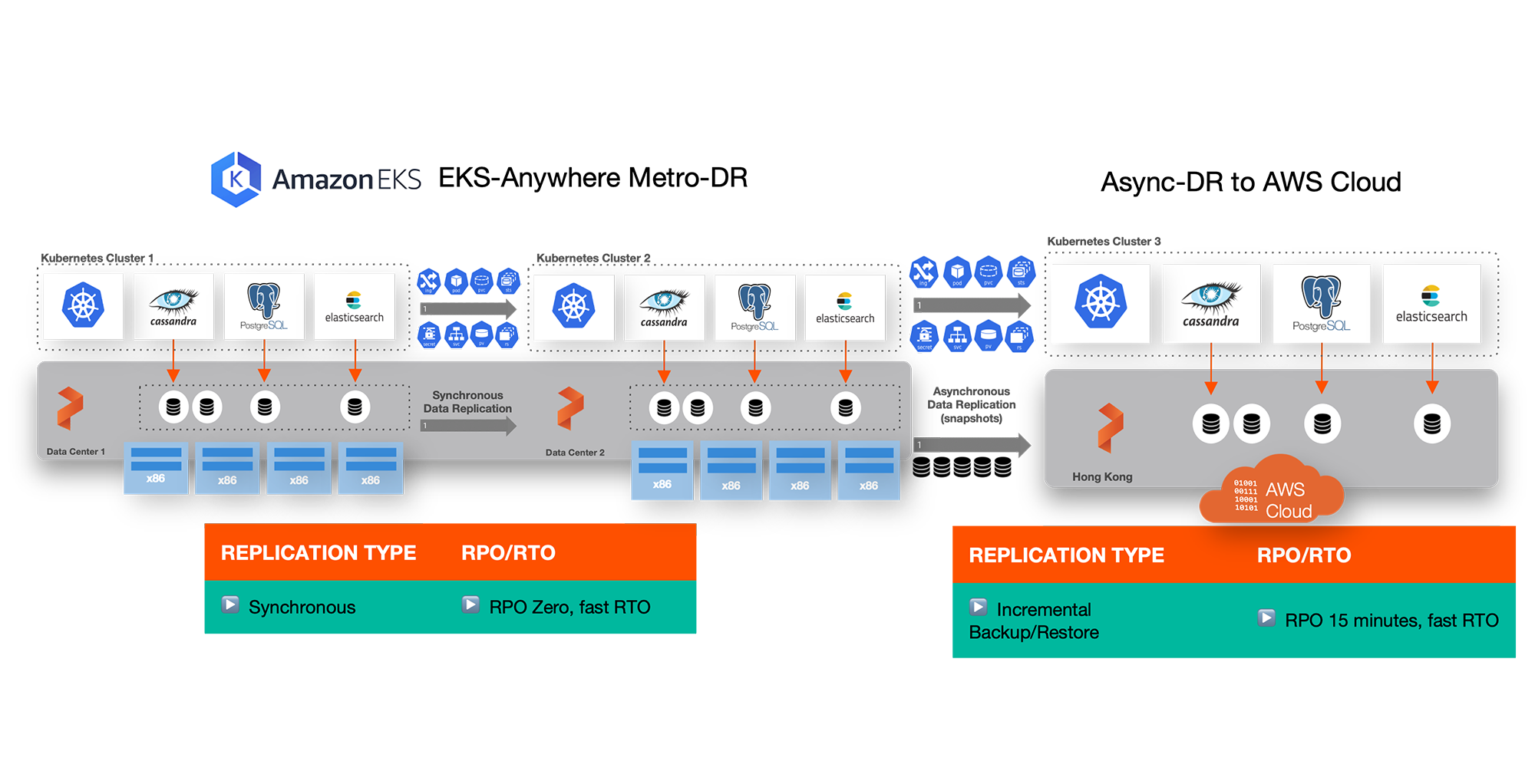 On top of all of this, you can also complete your data protection plan with Portworx PX-Backup. Backing up container workloads is much different than traditional systems and by installing PX-Backup along with Portworx Enterprise you too can have application aware backups stored in any compatible object store, be that a software defined solution, hardware like Pure Storage's FlashBlade, or in the cloud on AWS S3. Be ready to recover when even the worst happens. Sleep better at night knowing your applications and data are protected with the automated backup schedules and data retention policies necessary to meet your enterprise SLAs. All this driven through an elegant, multi-cluster capable web interface for easy setup and monitoring.
With EKS-Anywhere and Portworx by Pure Storage, bringing the power and flexibility of the cloud to anywhere you need your workloads to run has never been easier. Portworx enables you to build a consistent experience both in the cloud and on-prem. By combining Portworx Kubernetes Data Platform with AWS EKS, EKS-D, and now EKS-Anywhere you too can move your hybrid cloud vision from the drawing board into production with ease.
Learn more about how Portworx unlocks your data and enables enterprise data services for all versions of AWS Elastic Kubernetes Service, both on-prem and in the cloud at https://www.portworx.com.
Or start your free trial and try it out for yourself on AWS Marketplace at AWS Marketplace: Portworx Enterprise (amazon.com) or https://central.portworx.com.