April 7, 2020
Announcing Portworx Essentials: The #1 Kubernetes storage platform for any app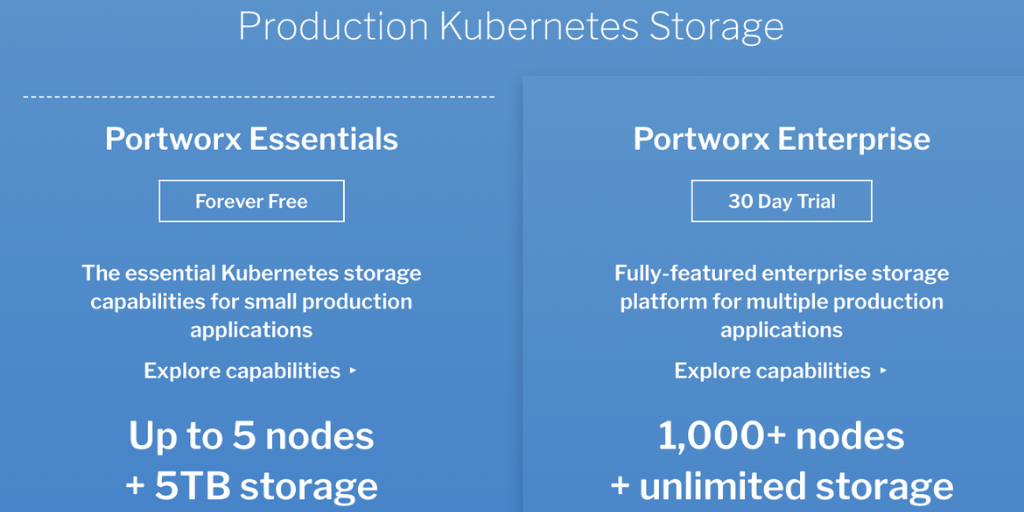 Fresh on the heels of being ranked #1 in GigaOm's Data Storage for Kubernetes Radar Report, today we are excited to announce the availability of our newest product offering—Portworx Essentials. With the addition of Portworx Essentials, enterprises can choose the best Kubernetes storage and data management solution for their current stage of Kubernetes adoption.




Simply put, Portworx Essentials is a collection of the most essential capabilities needed to run stateful services like databases on Kubernetes in production. Everything Portworx does is about production systems, but not every production app needs to scale to 100s or 1000s of nodes—at least not yet. That is why we are launching Portworx Essentials.

If you require enterprise scale for multiple applications along with robust security and data protection for mission-critical applications, you can continue to choose Portworx Enterprise with confidence.

If you are deploying smaller production applications, Portworx Essentials is the perfect solution to kickstart your deployment and allows you to grow over time as you mature your solutions.

To make getting started in production with Kubernetes easy, Portworx Essentials is completely free to use. Just sign up and create your first cluster or explore the complete capabilities on Portworx Essentials.