Product Announcements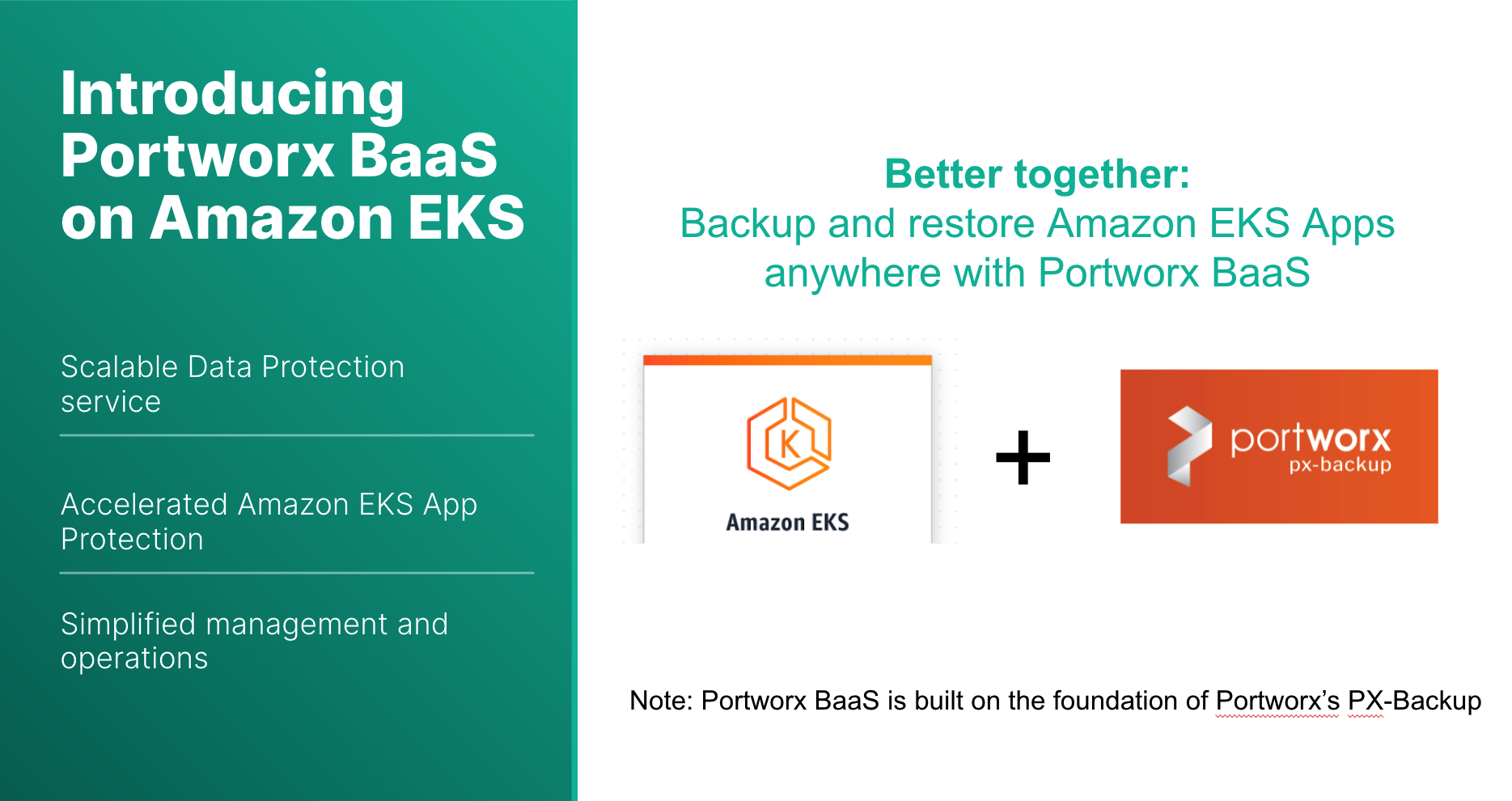 Today, I am pleased to announce the Early Access Program of Portworx Backup-as-a-Service (BaaS) on Amazon Elastic Kubernetes Service (EKS). Portworx BaaS delivers the speed and simplicity of Kubernetes data protection at the fingertips of Platform admins and application owners, through a modern data protection control plane.
Platform teams can now implement comprehensive data protection and data recovery objectives using single-click Backup and Restore for any Kubernetes applications running on Amazon EKS, thanks to the simplicity of Portworx BaaS.
Why we built Portworx BaaS on Amazon EKS
Amazon EKS is a leading provider of a managed container service to run and scale Kubernetes applications in the cloud or on-premises. Portworx has been focussed on solving challenges related to data management, data protection and disaster recovery for EKS apps for quite some time. In my previous blog on Portworx at AWS re:Invent 2021, I've shared how Portworx Enterprise and PX-Backup could be consumed from the AWS marketplace by EKS customers, who are looking to deploy data rich applications in production for several use cases.
As part of this work Portworx has been doing with AWS, a three year strategic engagement was also announced today and the introduction of Portworx BaaS on Amazon EKS is the latest step in expanding the relationship between Pure Storage and AWS to deliver a comprehensive Kubernetes platform for mutual customers moving applications into production.
How is Portworx BaaS on Amazon EKS different
According to GigaOM, "Without container-granular backup options for Kubernetes, enterprises are exposed to data loss, downtime and lost customer loyalty." Platform teams perform manual operations related to backup and recovery of Kubernetes applications today. This overhead can be very time consuming and require multiple steps, especially when one uses traditional backup solutions, which were not designed from the ground up for Kubernetes. Portworx BaaS, however, is based on the foundation of PX-Backup, which was built for Kubernetes and is classified as a leader by the 2021 GigaOM Radar for Kubernetes Data Protection.
Portworx BaaS on Amazon EKS delivers 3 key outcomes
1- Scalable data protection service
A SaaS control plane that maintains data protection throughout the application lifecycle ensures quick onboarding of Kubernetes data at scale. One can expect to confidently grow your Amazon EKS footprint with the auto-scaling architecture that matches your deployment needs.
2- Accelerated Amazon EKS App Protection
Portworx BaaS is built on the industry-leading Portworx PX-Backup to deliver container-granular, app-aware backup and recovery with a single-click. Platforms teams can easily achieve and maintain compliance with SLAs as applications move across AZs, regions, and hybrid cloud deployments, and save time with the ability to auto-discover Kubernetes applications.
3- Simplified management and operations
Platform admins and application owners can massively reduce backup management overhead with a centralized data protection control plane across all Amazon EKS applications. They can leverage the platform simplicity to give time back to application developers and deploy new applications.
Next steps
Get started today by registering for the Early Access Program of Portworx BaaS on Amazon EKS.
Be one of the first to experience the speed and simplicity of the modern data protection control plane in Portworx BaaS, which provides single-click backup and restore for any of your Kubernetes applications on the leading managed container service, Amazon EKS.
Portworx BaaS is one of the many as-a-Service offerings that Portworx by Pure Storage will deliver to its customers in the future.
Follow us on LinkedIn or Twitter for updates from Portworx by Pure Storage.
Share
Subscribe for Updates
About Us
Portworx is the leader in cloud native storage for containers.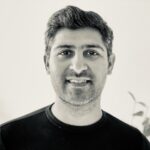 Rajiv Thakkar
Director of Product Marketing | Portworx by Pure Storage
Explore Related Content:
Amazon EKS

backup

backup & restore

cross cloud

data protection

kubernetes

multicloud

portworx

PX-Backup