ANALYST REPORT
2020 GIGAOM Radar Report
Portworx is a leader in Kubernetes Data Protection
Fill out the form to access this key resource
With the rapid growth of Kubernetes applications running in production, organizations must tackle data protection to ensure the resiliency, availability, and security of their applications. And yet, according to lead GigaOm Kubernetes analyst Enrico Signoretti, "Containers and Kubernetes are dramatically different from legacy technologies, and traditional data protection solutions aren't up to the task." Against this backdrop, GigaOm's 2020 Radar Report on Kubernetes Data Protection looks at the key criteria for evaluating a wide range of solutions.
According to GigaOm, Portworx is a "highly scalable and flexible solution for Kubernetes data storage and management that works seamlessly across different on-premises and cloud environments," and they rated Portworx as a "strong focus and perfect fit" on all five evolution metrics.
Download the full report and learn:
How twelve solutions exist to protect data on Kubernetes but few offer a platform of capabilities that include local high availability, backup and recovery, and disaster recovery.
How modern solutions like Portworx are combining data storage and data protection to offer cloud native data management.
How the best Kubernetes data protection solutions are flexible, multi-platform, and readily adaptable to a variety of use cases.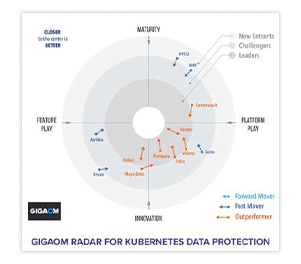 Pure Storage uses the personal data you submit (including name, phone, email, company, job title, location in the form) to provide you with relevant information and help process any orders you may place through Pure or our partners. By clicking register you agree to sharing of this personal data with Pure Storage and our partners and related third parties. You have the right to request deletion of your personal data, and the right to opt-out of sale of your personal data.
Privacy Statement
.