ANALYST REPORT
2021 Kubernetes Adoption Survey
In a third year of conducting the survey, the results continue to surprise us. Here's what 500 full-time IT pros told us about their Kubernetes usage.
Fill out the form to access this key resource
The events of 2020 stretched a lot of businesses to their limit. Many companies were forced to accelerate their digital transformation by rolling out new apps and services to help them adapt to the new world of remote work and the disruption to markets and supply chains caused by Covid-19. Others simply hunkered down and tried to do more with less.
In the midst of all this, Kubernetes played a huge role in this transformational year. Portworx by Pure Storage commissioned a new survey of enterprise users to assess the state of Kubernetes and find out how its adoption and usage evolved in the last 12 months and what the future may hold. We also explored how the pandemic impacted IT users' attitudes toward their jobs.
The picture we got back is of a technology that is playing an ever more timely and critical role in business.
Download the full report to read our key takeaways.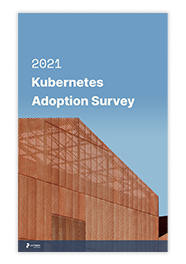 Pure Storage uses the personal data you submit (including name, phone, email, company, job title, location in the form) to provide you with relevant information and help process any orders you may place through Pure or our partners. By clicking register you agree to sharing of this personal data with Pure Storage and our partners and related third parties. You have the right to request deletion of your personal data, and the right to opt-out of sale of your personal data.
Privacy Statement
.